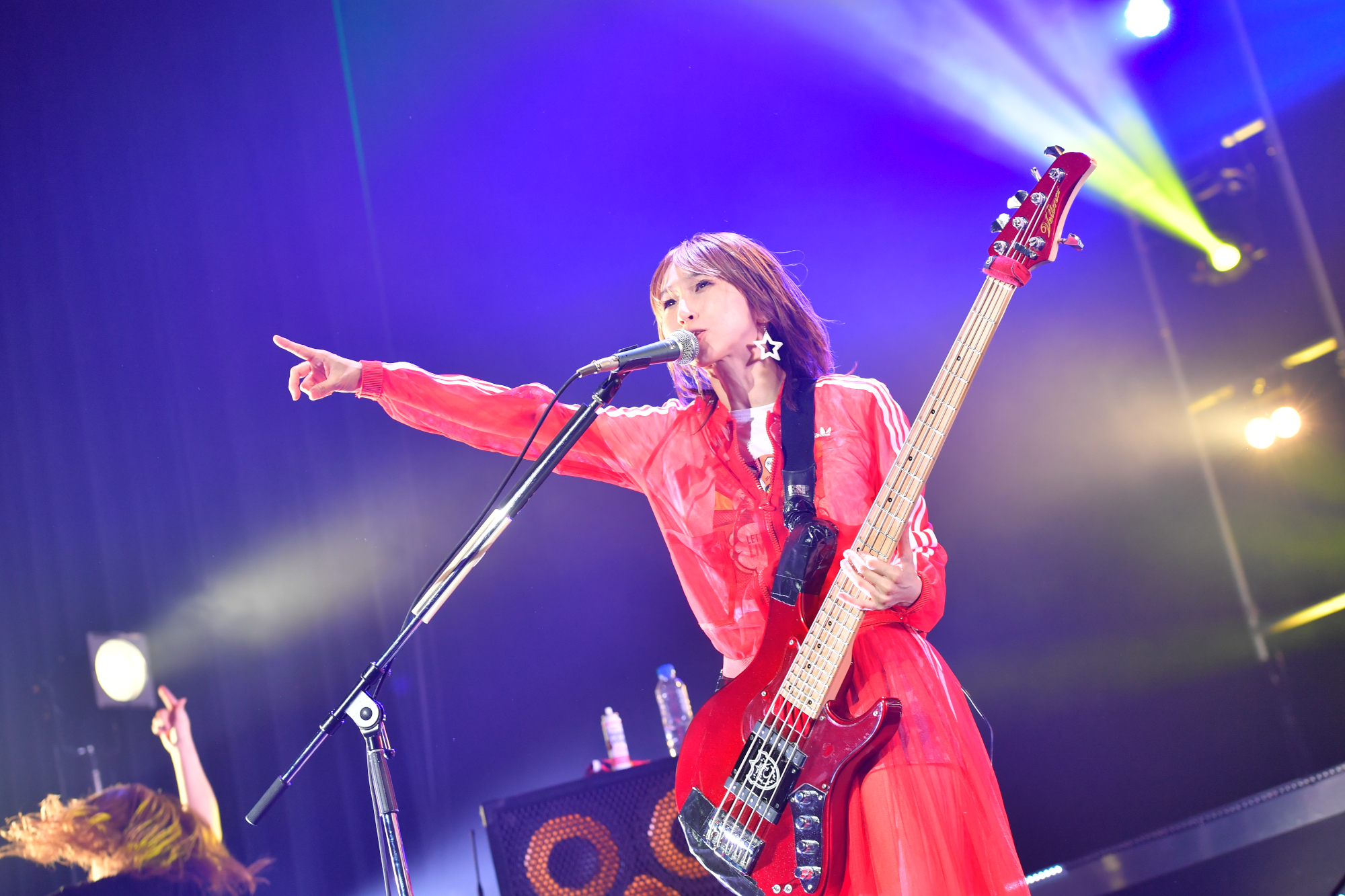 F Chopper KOGA (Gacharic Spin)
Interview by Cap Hayes and Todd Nelson
Translation by Cap Hayes
July 21, 2020
F Chopper KOGA is the bass player and leader for the band Gacharic Spin. We discussed with her the band's new album release, their recent VR live performance, what they have been doing during the pandemic, and more.
Many bands have performed live streams due to the pandemic; Gacharic Spin took it a step further and performed in VR. How did that come together? 
KOGA: This was our first time doing a VR live. We were putting a lot of thought into how to do online live shows. Instead of just putting out a lot of shows, we wanted to take our time and put together something special, so we chose a VR live.
Was there any special preparation required for the VR show vs. your traditional live shows?

KOGA: Absolutely. Viewing a VR live is different from viewing an online live. So, when we chose the setlist we had to think about and research many things – what songs are best to play, where to position members, and what kind of performance would be enjoyable for fans to watch in VR.
Some songs in the set were rearranged, like "ima wo ikiteru" ,did the band have to collaborate remotely to do this?

KOGA: Yes, we rearranged several songs – "shiawase no sign", "Juicy Beats", and "ima wo ikiteru".
For "shiawase no sign" we had already finished arranging it before the pandemic. Actually, we were already rearranging songs for the 47 prefecture tour. As for "Juicy Beats" and "ima wo ikiteru", after the emergency declaration was lifted, we were able to resume rehearsals and work on rearrangement little by little.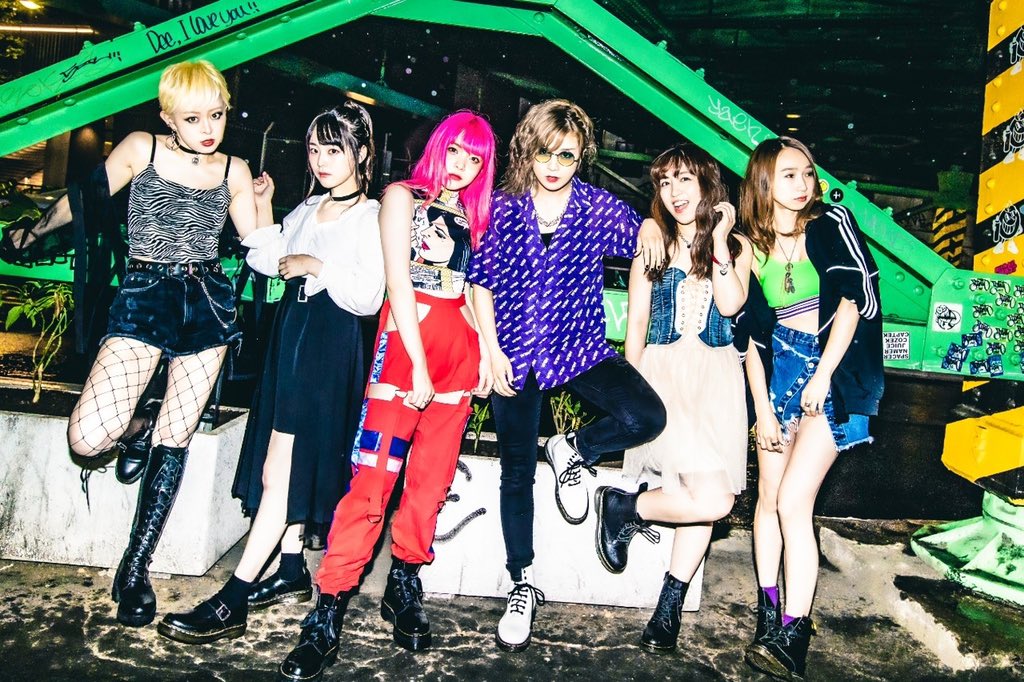 The band has stated that the audience is like an additional member of the band, and you feed off each other's enthusiasm. Is it more challenging as a performer to keep up the same level of energy without a live audience?

KOGA: Of course we were really happy that some people who might not be able to see an in-person performance would be able to view our online live. As far as our performance, and how happy we are to do it, nothing really changes between the two. But honestly there is something different in the room if there are fans there versus not there. The tension is higher with fans in the room and it feels like… a live. So, when we're doing an online live, it's really good, but with us alone it doesn't feel as complete as having fans with us.
It was difficult for overseas fans to access the VR live show, is there a possibility it will be made available for purchase at some point?
KOGA: I think for now, it won't be available for purchase, but we have discussed how we can let our overseas fans access our online lives going forward. We are working on how to do that now, so please look forward to our future lives.
Last fall the band celebrated their 10th anniversary with a special concert at Nakano Sun plaza. That show wrapped up the 5th generation's first tour together that started in the spring of the same year. How did the band evolve from that first show to the 10th anniversary final?
KOGA: In the beginning our sound wasn't perfect, and towards the end our sound came together and started sounding like a band that has been together for many years. Well, you know we really rehearsed together a lot. We practiced a lot… and together the six of us discussed and thought about what we should do for the band, what to do on stage, etc. Not only on days that we had a show, but days without shows too.
How did we evolve? It's really due to all of us thinking about what we can do for the band. We're doing the same now, but last year everyone really dug deep.
You always have very entertaining stage shows. At the live you surprised everyone with yuri and Hana both playing drums on "Next Stage", that is innovative even for Gacharic Spin! How did that happen?
KOGA: Well, we all discussed this. In past tours Hana was on the drums, and for Nakano Sun Plaza, one of the themes was to show our fans where we came from as well as where we'll go from here. Unsurprisingly, Hana said she would like to play drums. So, we came up with this twin drums idea – we thought this is something a lot of bands won't be able to do. So, that's how everyone decided.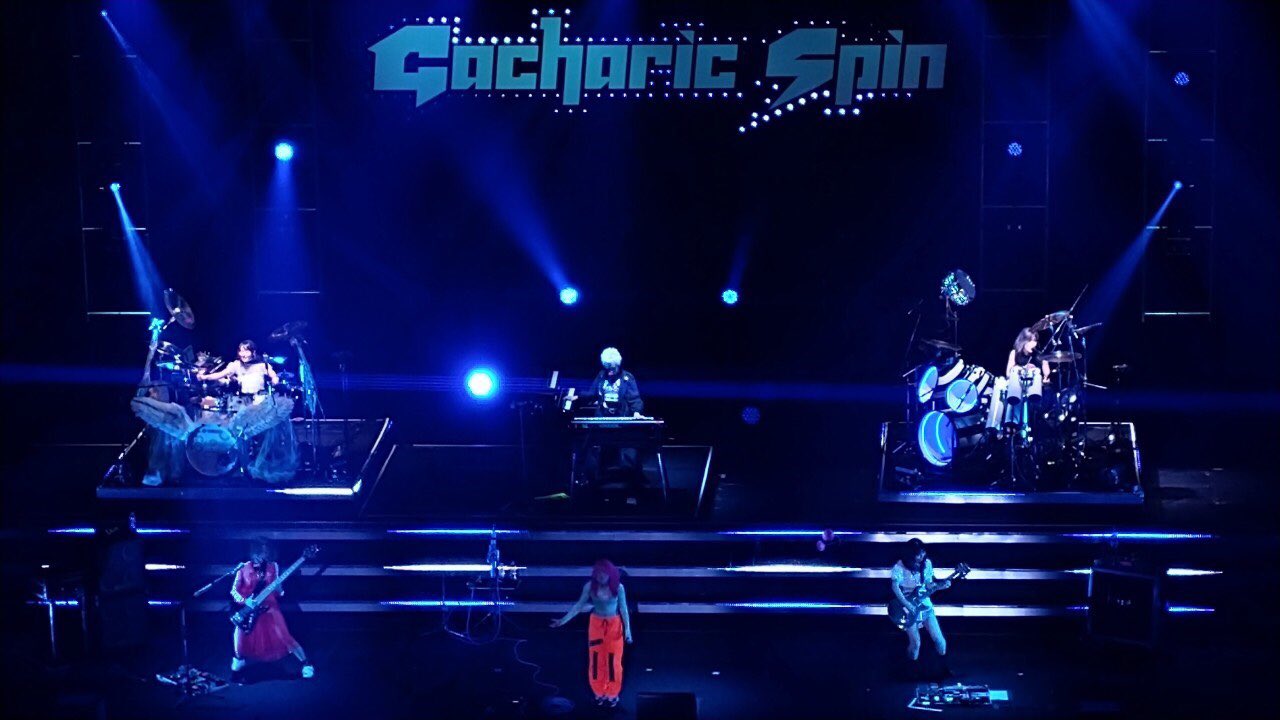 With each release the band's sound changes and stays fresh. Gold Dash has a much more streamlined rock sound, with a greater emphasis on guitars and keyboards and less with synthesizers and effects. What caused you to go in that direction for this release?
KOGA: Well, first and foremost, it's because we changed some members and roles and became a six-piece band. We don't have dancers anymore, our current lineup seems more band-like, and now we are able to create more of a rock sound, so we wanted to create Gold Dash to reflect that.
Now Hana is out front now and she had wanted to do twin guitars for a while. We felt like we could express ourselves with the power of a band sound. Before we enjoyed the entertainment aspect, with dancers and so on, but when yuri and Angie joined, we thought they could bring more to the sound. Of course they are also good performers as well, but they can contribute a lot to the sound of the band. So we felt that the best fit for the six of us, the best way to express ourselves, was with this sound.
Compared to before, I think our sound became more intense… Is that more rock-like? I guess so right!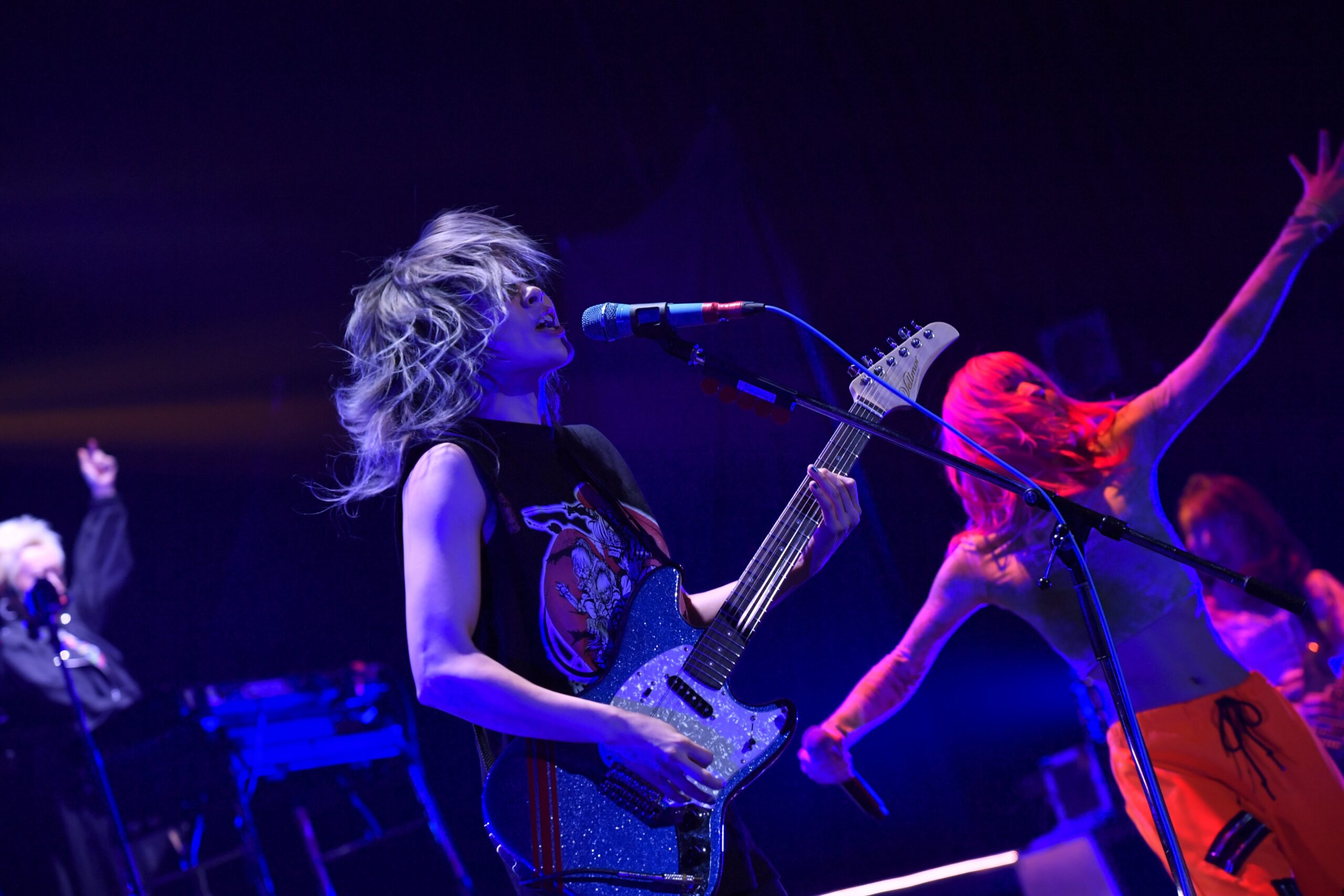 It was announced that in this 5th generation lineup Oreo would be focusing on keys. At the recent live, she sang lead on "Hunting Summer".
Many foreign fans have commented that they want to continue to see Oreo sing, is that something she may still do but in a reduced role?
KOGA: Right, well, right now we're writing new songs and arranging existing songs and on some the chorus is really important. I think you will hear more of her.
When we changed our arrangement, we also changed the way that she performs on keys. The more intense keyboard playing is pretty challenging, and we didn't want it to become overwhelming. Last year we wanted to try something new and we thought it would be good for Hana and Angie to sing out front.
Oreo can do both and wants to give it her all, so when there are songs that are a fit for her Oreo will sing.
It has become a tradition for each Gacharic Spin album to have at least one song with TOMO-ZO on lead vocals. When the band is creating material for an album, are the songs she sings lead on specifically written with her in mind from the outset?
KOGA: Well, of course there are times when we say "Let's write a TOMO-ZO song", but often when we are working on a regular arrangement, someone might say "Doesn't this seem like a song that would fit TOMO-ZO"?
For example, the song "rurarara" on Gold Dash wasn't a TOMO-ZO song at first. Because it's a ballad, originally we intended for Hana and Angie to sing on it. The we started talking about "wouldn't this be a nice TOMO-ZO ballad" and TOMO-ZO said "Ehh, you really don't mind if I sing it"? (laughs)
Guitarist Takayoshi Ohmura, who the band has performed with at various events, wrote a song that is on the album. How did this come about?
KOGA: Every year on Ohmura-san's birthday, we do a two-man live with him. Since way back we always say something like "Ohmura-san, please write a song" and he always replies "I want to write one". When we changed the band sound, although he was very busy, he said he would write one.
So, when Ohmura-san wrote "|起死回生Forever" for us, he wrote it with a lot of irregular time signatures and it's a pretty difficult song. It's super cool, but when we thought about it and started recording it, we kind of said "why did we do this to ourselves?" (laughs)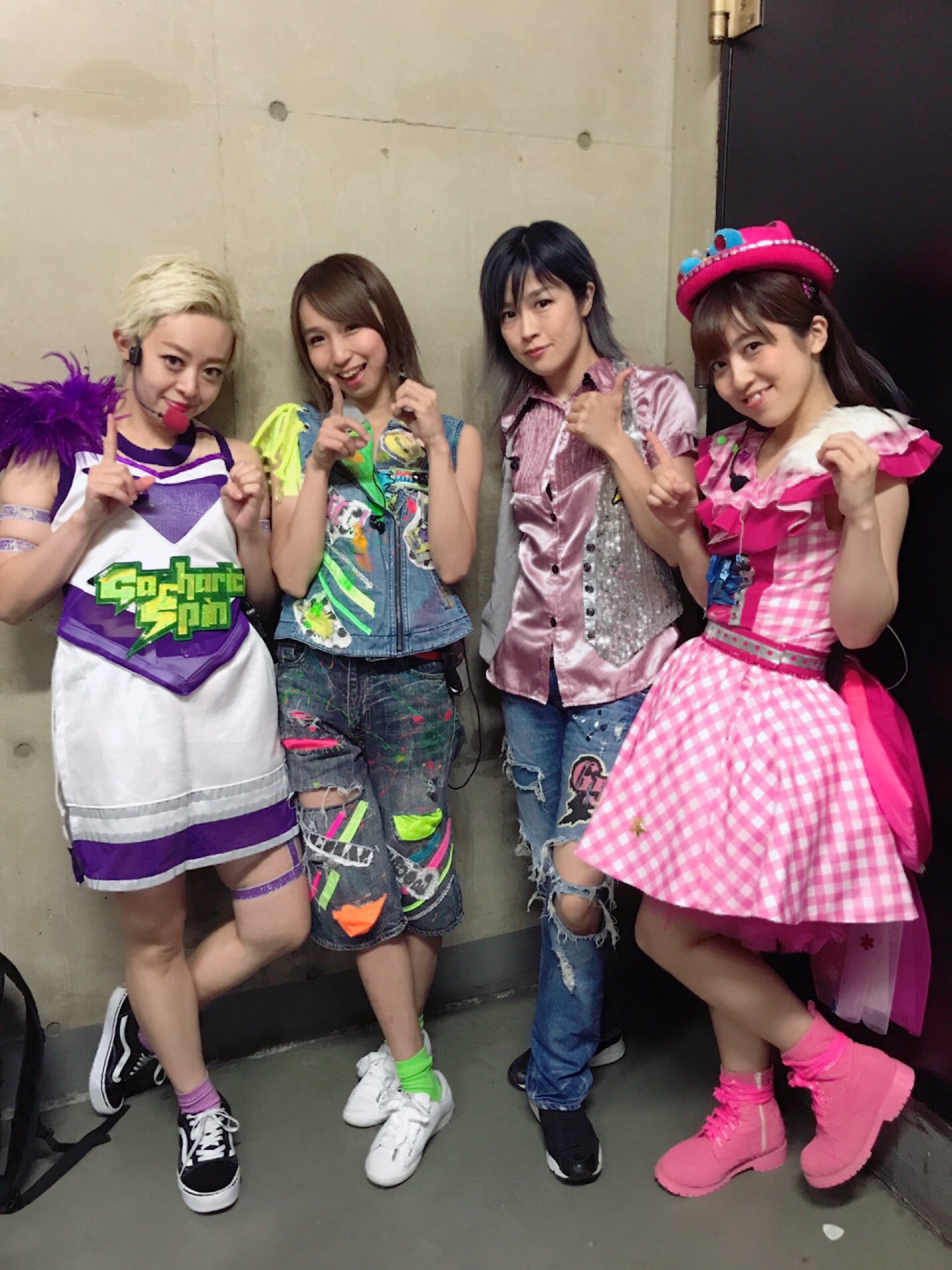 Along with the stripped-down rock sound of Gold Dash, the band's current style and fashion followed a similar trend. Are the band's loud, colorful and flashy costumes a thing of the past?
KOGA: Because of the changes to our sound, we thought it was a good move to change the appearance as well. And, Angie and yuri probably don't have as much connection to the past costumes. So, we tried to link our six-person atmosphere to this new expressive music. Slowly but surely, each member is evolving their part of that style.
Also, we have just recently finished a photo-shoot with some new fashion, please look forward to it!
KOGA: By the way, how do overseas fans feel about the outfits?
Well, I think every person is different. The two of us like all of them I guess.
KOGA: (laughs)
But, introducing the band to people who are unfamiliar with you… I usually try to show them "Juicy Beats" or "Sekira Liar". There's one "Sekira Liar" video with Oreo in the hamburger costume, doing her great solo on top of the keyboard. But, when I show the video to people here, instead of commenting on the cool bass intro, or the awesome keyboard solo, they sometimes just say "Is that woman wearing a hamburger costume"?
KOGA: (laughing hard) Oh really?
Yeah, I guess I don't really totally understand that costume either…
KOGA: (clapping hands and laughing) Interesting…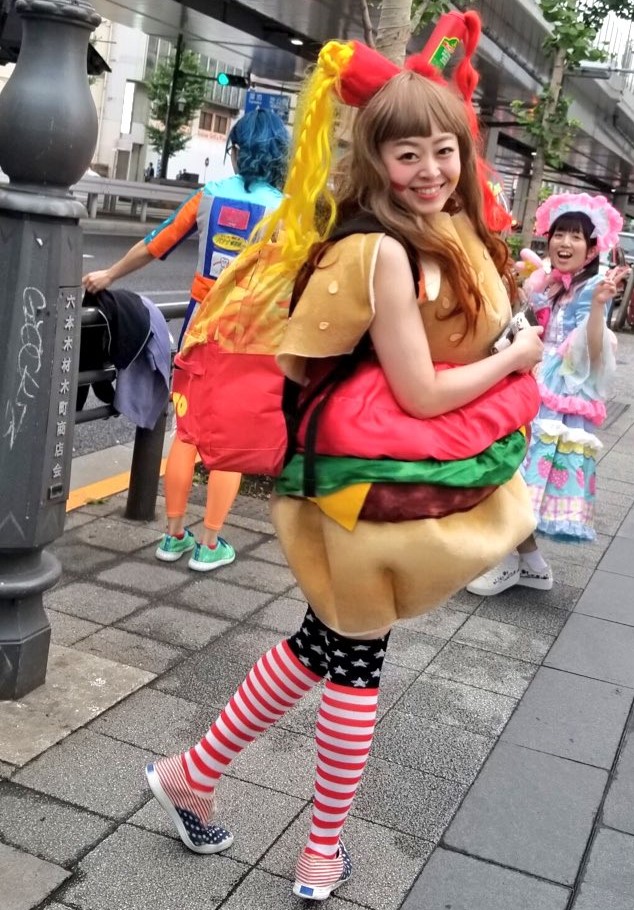 The pandemic has caused the band to cancel live shows for the time being, but have found alternate ways to keep in touch with your fans, including creating individual SNS accounts, conducting online meet and greet signings, and even conducting personal music lessons!
What was it like giving individual music lessons to some fans?
KOGA: The lessons are really fun! Of course I think this pandemic is really unfortunate and feel bad for everyone being affected, but it did give us the opportunity to think of new ways to connect with our fans. It gave us some new perspectives.
One difference between live events and online events is that there are so many people in the room at a live event. But, due to Coronavirus, we are meeting online and meeting 1:1. Since we can't meet each other live, we considered how it would be best to meet the fans, and meeting 1-on-1 is something that we usually can't do, and our fans usually can't experience. I think that makes it special and it makes me happy that we can do it.
Typically you are the one meeting fans, but late last year you had the chance to see KISS perform on their end of the road tour and meet Gene Simmons. Is that the first time you met him?
KOGA: No, I've been to three KISS shows and I have met Gene Simmons twice.
You're a really big fan of Gene Simmons, right?
KOGA: Yes, definitely.
Can you tell us what it was like meeting one of your influences?
KOGA: How do I say it? Uhm… (embarrassed look) he's really cool! (laughs)
But, you know, in the past, before I ever had any interest in playing in a band, when I first saw a KISS live performance it really had an impact on me. It was really fun, you know. You're wondering what will happen next and checking out their costumes, their performance… it was really fun and when I was there, I started thinking "Isn't entertainment pretty great? Isn't music great? Aren't bands great"?
Are they familiar with Gacharic Spin?
KOGA: I don't think so. I'd be really happy if they did though. I might be too embarrassed to give them our CDs.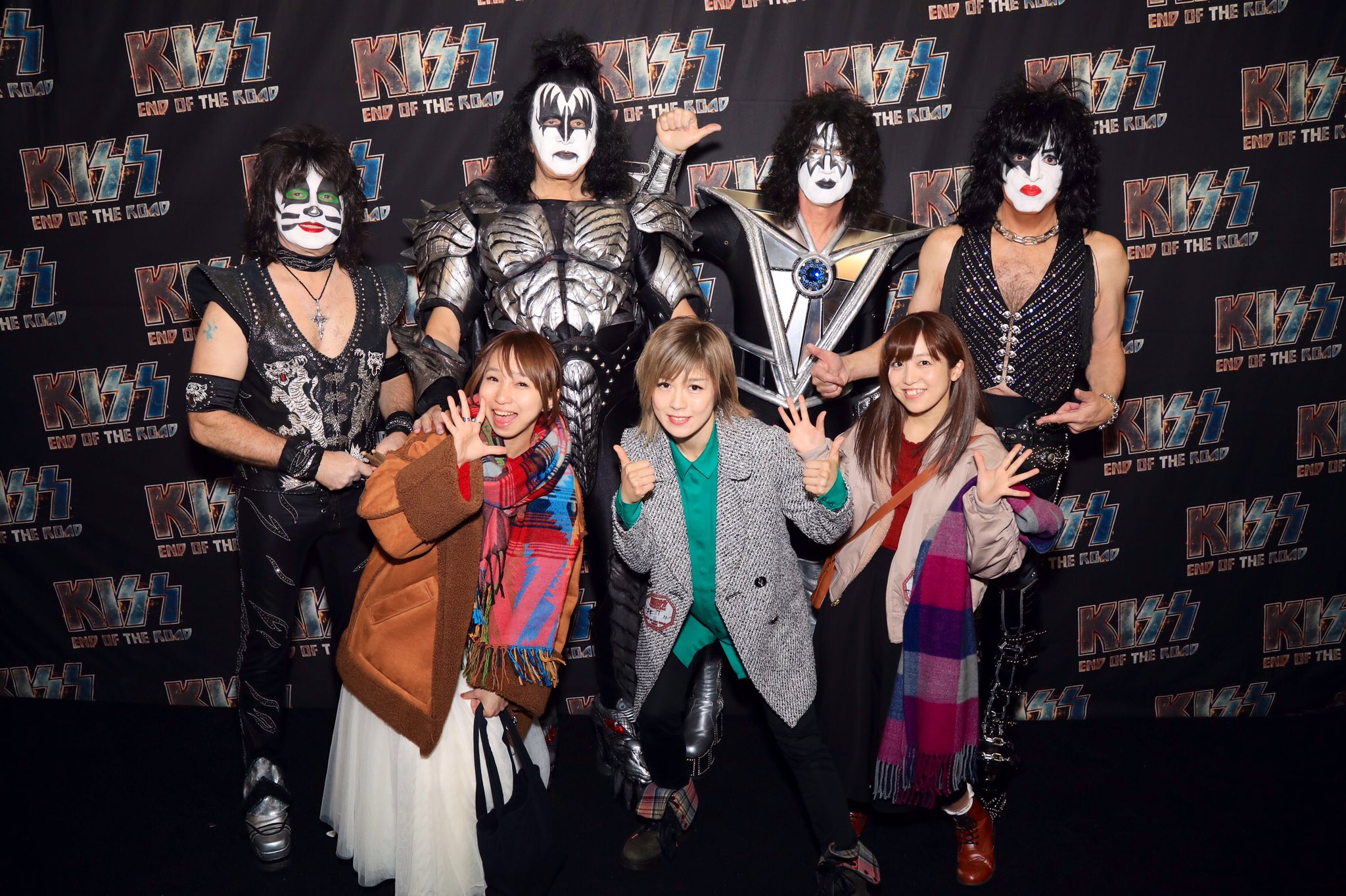 If a venue allowed it, would you consider doing the fire breathing like you talked about on J-Melo?
KOGA: Of course.
Due to restrictions from COVID the band had a 3-month break from performing, has that been the longest period?
KOGA: It was the longest. It was also the first time we had spent this long without all the members meeting.
Will you miss being able to take longer breaks after this is over?
KOGA: Wow, how do you answer that? I want time to sleep! (laughs) But, of course I want to start doing lives again as soon as possible, so I don't think I really want to take a break. But, I would like more time to sleep! Since I started this band, I think I've slept more this year than any other. (laughing)
Hana mentioned during the VR live that she has taken up boxing?

KOGA: Yes, that's right.
Have the members started any new activities due to the downtime?
KOGA: I recently bought a copy of Photoshop Illustrator and have been learning. I designed Hana's birthday t-shirt in Adobe Illustrator.
We've also noticed that you've become pretty proficient at Instagram.
KOGA: You really think so!? That makes me happy to hear. At first, I didn't really know how to use it, I never posted on Twitter or Instagram.
By the way, do a lot of overseas fans use Instagram?
I think some people prefer Instagram and some prefer Twitter. For us, Japanese bands use both, so we follow both.
KOGA: Well, please everyone spread the word about our SNS accounts (laughing)
You joked that you've been pushing your online students to practice regularly, but your own routine fell off. yuri also said that she's only able to practice with her Anpanman drum set. On a serious note, how are members practicing during this time?
KOGA: Hahaha, well, I've been playing the bass, but maybe not practicing some performance aspects, like moving around the stage. So, when we played live again, it was apparent to me. (laughs)
As for yuri, when the emergency declaration was announced, she couldn't go into the rehearsal studio at all. Here in Japan, it's really hard to have drums setup to practice at home. I think she had the worst of it all, because of that.
As for the other members, we've all been practicing at home in our own ways. I have a small practice amp that I play turned down… TOMO-ZO plays through a small amp also. Sometimes we would play together in the same room, and so on. And, during this downtime, we've had more time to do things like song writing or writing lyrics, as well as taking in new inputs, like watching movies or listening to music.
And, of course you know we started doing YouTube videos. We have been learning to shoot videos, edit them, etc. for the past three months or so.
Was there any difficulty when you first reentered the studio?
KOGA: I forgot my equipment settings.
Just you?
KOGA: Basically all of us. (laughs)
So speaking of YouTube, your GachatoTV episodes are popular with overseas fans and provide a way they can connect with the band.
Will this become a regular addition to the band's SNS activities, once touring resumes?
KOGA: I think we really want to continue doing it, but really right now I don't know how much we can after we start touring again. We have learned how to do everything like shooting and editing the videos, but I don't know how much time we will have after this ends.
But, if possible, I would like to continue doing it, like once a week.
I personally really enjoyed the GachatoTV episode where yuri demoed her Anpanman drums. Can we look forward to any more videos of yuri featuring them?
KOGA: (laughs) Well, she might be working on another. Please look forward to it. (laughs again)
A defining trait of this band through its history is its fearlessness, never afraid to take chances and try new things – changes in musical sound with each release, member role changes, even with the band's stage show – VR most recently. With so many members and personalities, do some members ever worry about the changes or does everyone just dive in?
KOGA: I don't know if I can speak for others as individuals, but as a band we're strong together. Of course when we start something new, we get nervous or a little scared of how it will go. Actually, I often worry about these things. But, when we're together as a band, we can look past that. We're thinking, if we don't try, we won't know.
Would you say you worry the most out of everyone?
KOGA: Ehh, who would it be??? I think everyone feels like that from time to time. I really don't know who worries the most. (laughs) But TOMO-ZO is very strong.
Yes, she seems quite strong. And I know she also loves to eat meat!
KOGA: (laughing)
On stage Angie has played air guitar with TOMO-ZO and has been behind Oreo's keyboard kit. Recently on SNS she has uploaded some bass and guitar lesson footage. Can we look forward to her playing at live shows in the future?
KOGA: Well, I don't think that will be a regular thing for her, but she has all sorts of interests and hobbies and she likes to learn. So, I think it's possible that something like that could happen in the future.
With the pandemic the future is uncertain, what are the band's current plans for the rest of the year and going into 2021? Can we look forward to another album or single?

KOGA: Well, we haven't decided on a time, but we want to release new material, so right now everyone is working on it. We already had intended to work on something after the tour ended, but once the tour was disrupted… we started thinking "how should we do this"? So, right now we're in the middle of planning what to do.
Gacharic Spin Website – http://www.gacharicspin.com/
Gacharic Spin Twitter – https://twitter.com/Gachapin_info
Gacharic Spin YouTube – https://www.youtube.com/user/gacharicspinch
GachatoTV – https://www.youtube.com/user/GacharicSpin
Member SNS Account Info
KOGA – Instagram / Twitter
Hana – Instagram / Facebook
Oreo – Instagram
TOMO-ZO – Twitter
Angie – Instagram / Twitter
yuri – Instagram / Twitter
© Copyright 2020 UniJolt