IBUKI
Interview by Brian Galloway
Translation by Cap Hayes
August 9, 2020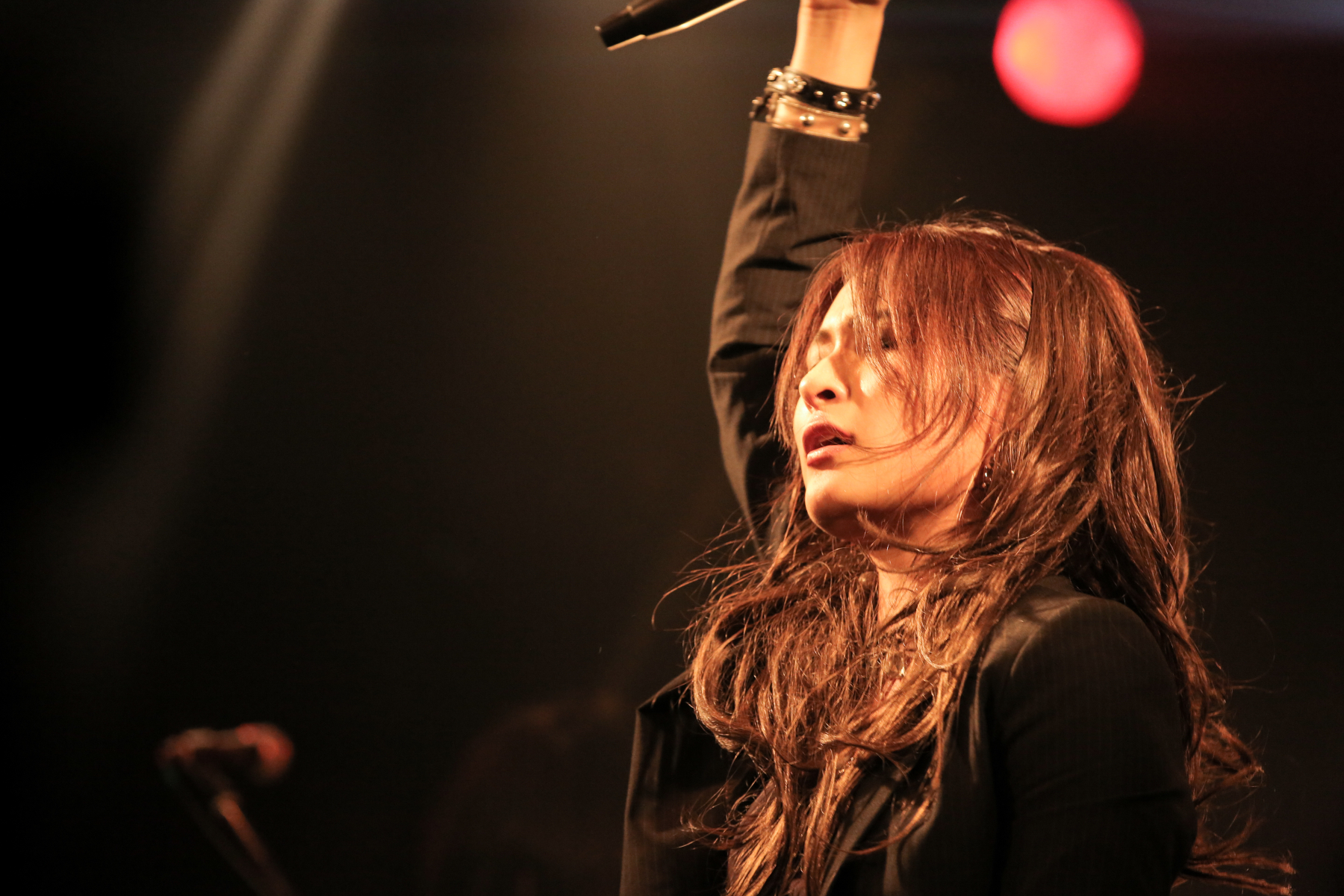 (photo: Kaoriko "ossie" Hanawa/NATSUMETAL live, February 2020)
We recently had the opportunity to sit down with IBUKI to talk to her about her latest project, NATSUMETAL, as well as her career as a singer and songwriter. After a little bit of me being a fanboy, we got down to business.
Your new project is called NATSUMETAL. For those who don't speak Japanese (like me), what does that mean?
IBUKI: NATSUMETAL is a combination of the Japanese word "natsukashii" and the word "metal." Natsukashii, due to the time period of the music, 70s, 80s, etc… Ah, how would you say "natsukashii" in English?
Probably "nostalgic" is the best way to put it…?
IBUKI: Ah, yes. Nostalgic!
NATSUMETAL puts a metal twist on pop and rock songs from the 60s, 70s, 80s, and 90s. What was the catalyst for doing that?
IBUKI: Before I knew about metal, the music I really liked was from like the 70s, 80s, and 90s. So, this time when I was thinking of the concept, I asked myself, "What music do I like?" I thought, "After all, I really do like nostalgic music," and I said, "Wouldn't it be really fun to create a kind of hybrid?" And, that's how it began.
What about the chosen songs appealed to you? Were they personal favorites you wanted to cover?
IBUKI: Well, the first one I thought I wanted to do was a song I really loved, "Desire." After that, other members weighed in as well, saying, "I'd like to do this," or, "I'd like to do that," and we all decided together on the songs.
You performed with FATE GEAR last year at Metal Matsuri in London. Was that your first time performing overseas?
IBUKI: Before that [Metal Matsuri], I had been to Korea twice, with Disqualia.
Are there any other countries that you've performed in?
IBUKI: Not yet.
Hopefully, you'll be able to perform in the US one day?
IBUKI: (In English) Of course!
How did you go about recruiting your band for NATSUMETAL? I know you've already worked with Reanne (keyboards) several times, going all the way back to the Art of Gradation album, Concentration, in 2013. How about the others members?
IBUKI: The first person I asked was Reanne. I just said, "Hey, do you want to do NATSUMETAL together?" When he said, "Sure," I looked for the other members. The next was Shinichi Kobayashi on guitar. After that, Shinichi-san suggested some of his acquaintances.
Editor's Note: IBUKI had previously worked with Shinichi-san in 2018, when working on 鬼哭の章, the first project from The Makai. NATSUMETAL is rounded out by Ryota Terasawa on bass and Shun Minari on drums.
Do you plan to do another NATSUMETAL album, or is it a one-off project?
IBUKI: I feel like I want to do another, and I want to be able to say "yes" when people ask for another album, but everyone is busy with so many projects… I wonder when we could do it? But, I really would like to.
If you keep it going, do you already have any of the songs in mind that you'll cover?
IBUKI: For a second and third album? Sure, there are so many!
You don't want to give us any hints?
IBUKI: There's just so many… too many… Ah, for example, I really like Kohmi Hirose's song "Promise." From an early age, it was my favorite song in the world. So, one day I'd like to do that song.
With Around the Nation, Disqualia, and your solo releases, you've written all of the music as well as the lyrics. How do you typically compose your songs? Guitar, piano, something else? What is your songwriting process like?
IBUKI: Well, there are a lot of methods that I use. Sometimes working from the singing, or the melody, writing on a synthesizer on the computer… but the most important thing for me is the melody and the chords, so recently, I've been writing at the piano. While singing, I write the melody chords, working out the score. When I feel that it's balanced and I have the melody and chords the way I want, I move to the computer and write the score.
Have you done any songwriting for other groups?
IBUKI: Not for any metal artists, but I have helped some of my students with writing songs. Of course, if someone asked me, I would be happy, but basically I like working on songs for myself. (laughs) Because I want to have that freedom of writing, I don't have a strong urge to write for others.
What do you have planned next? Another solo album? Another NATSUMETAL album? More work with The Makai?
IBUKI: Well, actually, right now I'm planning something that's different from anything I've done before.
So will this even be a different genre?
IBUKI: Well, maybe I can give you some hint . . . we're working out the details but, sometime in the fall you can expect an announcement of something new. This will be a project featuring me, but also including many other artists.
Your recordings with Cross Vein have become like my Holy Grail: I'm always on the lookout for used copies. Other than those two releases, is there anything else I'm missing?
IBUKI: You're missing 3 or 4 total I think… In addition to the Cross Vein albums, I worked on Meta-Loid (メタロイド) and also sang on PROTEST THE HEROINE I and PROTEST THE HEROINE II by South of Heaven.
Editor's Note: Meta-Loid (メタロイド) is the latest solo album from guitarist MI-YU.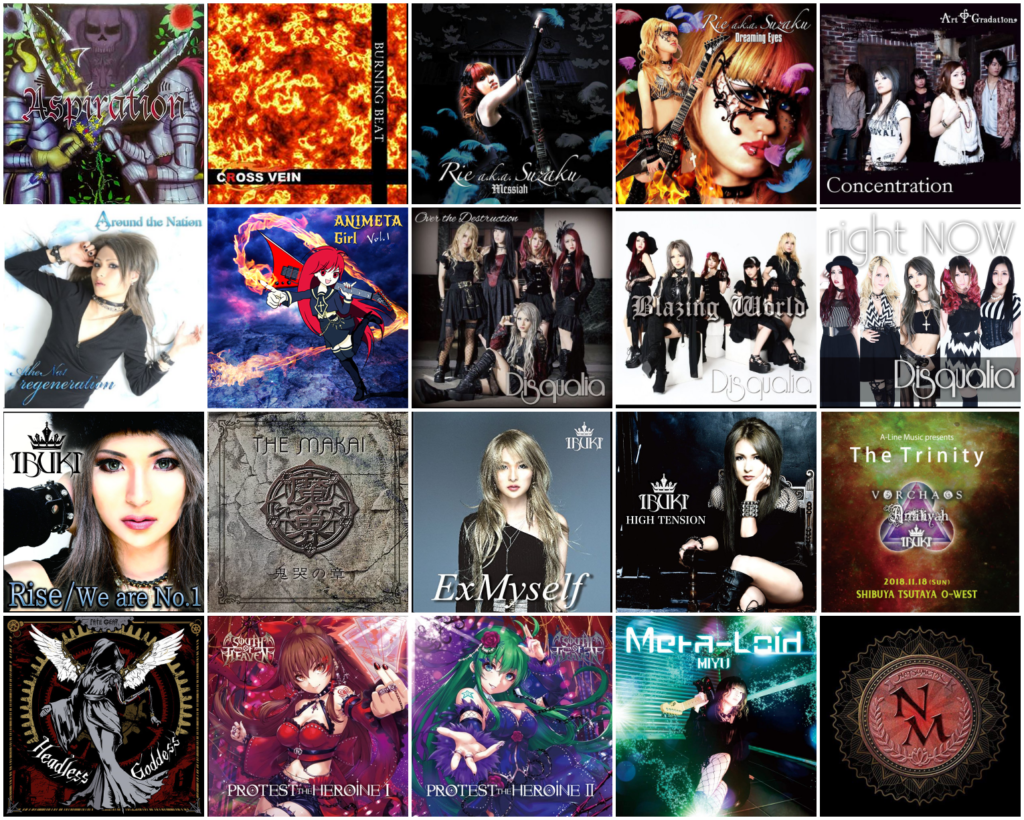 You have worked with Mina-taicho on multiple occasions: live performances with DESTROSE, a track on her Animeta Girl album, and then with FATE GEAR, both on the Headless Goddess EP and live. How did that come about?
IBUKI: We first worked together 10 years ago, when she was with DESTROSE. At that time, I came in as a support vocalist. Since then over the years, she's become someone who I really like and trust. And when she has a project, she'll often ask me, "Do you want to do this one?" or "How about this one?" And that's how it's been for 10 years or so.
A while back on Twitter, you posted a video of you practicing high notes. Then on 夜明けのスキャット (Track 1 on the NATSUMETAL CD), I think you might have hit the highest note I've ever heard you sing. Did you already have that song in mind when you were doing those practices? Or was it just a happy coincidence?
IBUKI: Well, actually, I didn't choose this song, it was Kobayashi Shinichi-san's suggestion. When I first heard it and thought about it, I thought to myself, "Eh, can I sing it?" It's not the first time I've sung that high, but maybe the first time on a CD like this.
Did you have to practice a lot to be able to sing it?
IBUKI: Ahh, practice? I didn't really practice it. (embarrassed laugh) What I mean is, since I first started singing, I've been practicing high notes like that, and improving over time. So, I didn't really have to work on that song specifically. It just never occurred to me like that. I guess I just thought, if I can do it, I'll do it.
I saw a YouTube video you posted where you talk about breath points and then demonstrate with Mari Hamada's "Return to Myself." (She is one of my favorites, by the way, and you did a great job.) How long have you been giving voice lessons?
IBUKI: Thank you! I started teaching singing about 5 years ago. I've been doing individual lessons about that long. But, I started online lessons about 6 months ago.
Have you also been giving 1:1 lessons online during the last 6 months?
IBUKI: Not so far, no. But, I think if there was someone far away, or someone I couldn't meet but was someone I could help, I would like to try it.
Did you switch to online lessons because of COVID?
IBUKI: Well, that's part of it, but I had really been interested in doing something online for a while. I like the whole idea of online education. These lessons are a part of Shinichi Kobayashi's school. So, it was when he asked me to get involved that I started them.
Speaking of vocal lessons, are you classically trained?
IBUKI: Actually, up to this point, I haven't properly gone to a school. About five years ago when I wanted to offer vocal lessons, I started worrying a little bit about it. Since I had never been formally trained, should I be teaching? So, I began taking vocal lessons formally. But, after a month or two, I thought, "Should I start teaching?" (laughs) So, I stopped the lessons and started teaching. But, since then, I have done a lot of individual study and research to improve.
All of your work seems to be firmly in the metal arena. What interested you in metal to begin with?
IBUKI: Well actually, I started in metal because I was invited to sing in a metal band, Cross Vein. (laughs) The old band leader of Cross Vein approached me about it and it was the first time I was really exposed to metal. Prior to that, I was familiar with powerful voices like Kohmi Hirose, which have some likeness to metal. Since I like those kinds of singers . . . Japanese 90's female vocalists often had those projecting, powerful voices. So, since I really like those kinds of singers, I thought metal must also be in my heart.
After I entered Cross Vein, I gradually got to know more about metal and understand it better.
Were there certain artists that inspired you?
IBUKI: Japanese pop artists that were kind of bordering on metal. Like Kohmi Hirose, Takanori Nishikawa of TM Revolution and abingdon boys school, and Namie Amuro. As far as metal bands go, I really like Bullet for my Valentine and Amaranthe.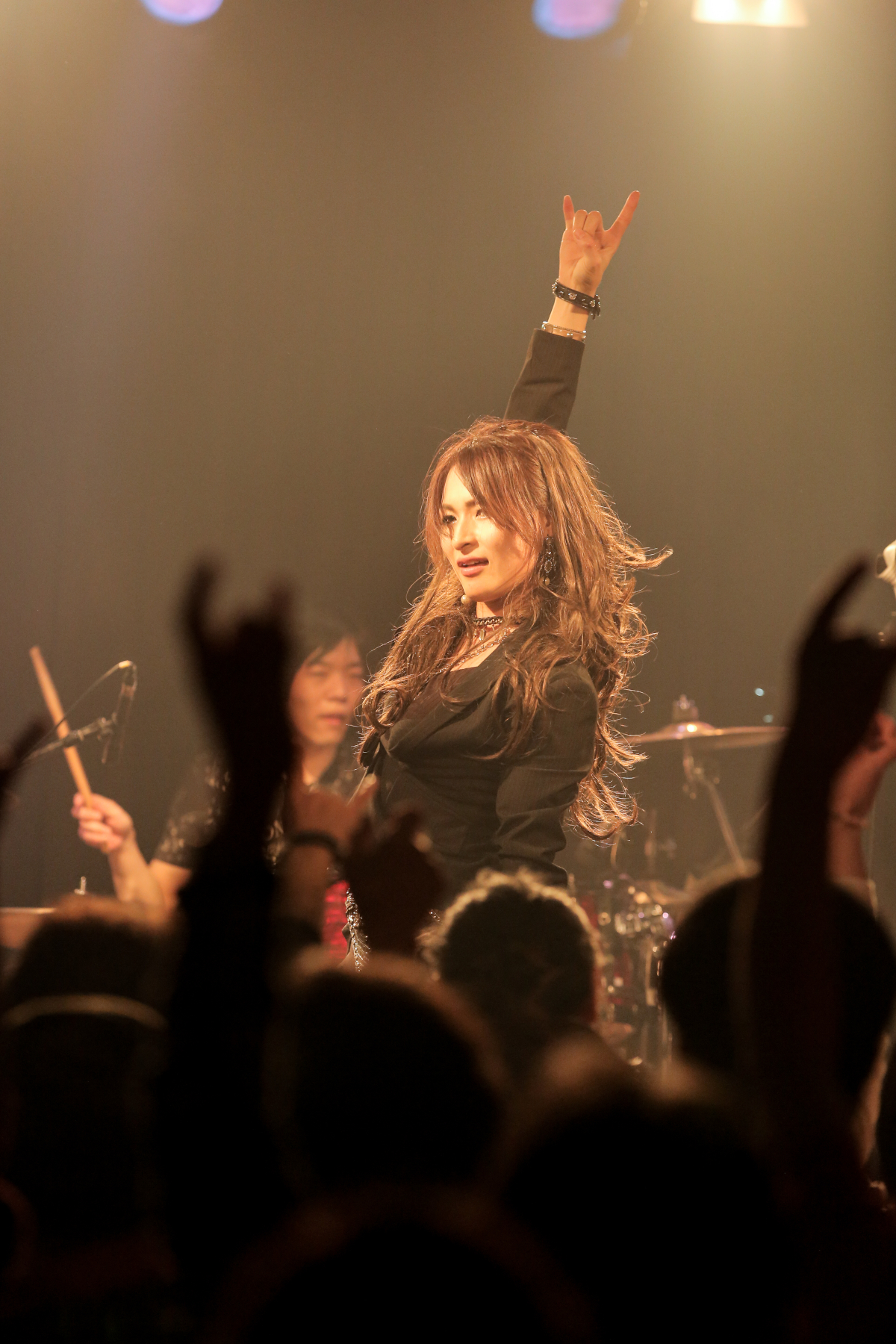 (photo: Kaoriko "ossie" Hanawa/NATSUMETAL live, February 2020)
I saw the announcement for the 1st One Man live for NATSUMETAL back in February. I can only imagine the frustration of having touring shut down by corona.
Do you plan to take NATSUMETAL back out on the road when live restrictions end?
IBUKI: Since the beginning, I've really enjoyed writing and making music over playing live. Of course I want to play live also, but I'm actually content in writing songs.
We have several readers on our website who you might call "gear heads." Is there any special equipment that you use, such as mics, keyboards, etc., that you would like to let our readers know about?
IBUKI: Well, I don't have any specific recommendations. The keyboard sounds are actually software. (laughs) For guitars, I like to use V-METAL software.
Is this something in ProTools?
IBUKI: No, V-METAL is a plug-in software that is produced by a completely different company. I use Cubase for my DAW (Digital Audio Workstation) instead of ProTools. The V-METAL plug-in is installed separately from the DAW, and is loaded and used by the DAW. With that software, I can get a really metal guitar sound. (laughs) I'm not so good at guitar, so I use that software to write metal.
(laughs) Is it really OK to write that?
IBUKI: Of course, of course. I use the software to give the guitarist who will play the actual parts an idea of what I want.
Is there anything in particular that you would like to say to your foreign fans?
IBUKI: One thing I would like to say is that I know it's hard for fans outside of Japan to enjoy live performances. From here on, I want to try to put out more YouTube videos and/or movies in the hopes that more people can enjoy the performances.
I would just like to say again, thank you very much for talking to us. I am wishing you all the best, sending you strength and power from Texas, and I'm looking forward to what you do next.
IBUKI: Thank you! I really hope to produce some great work going forward.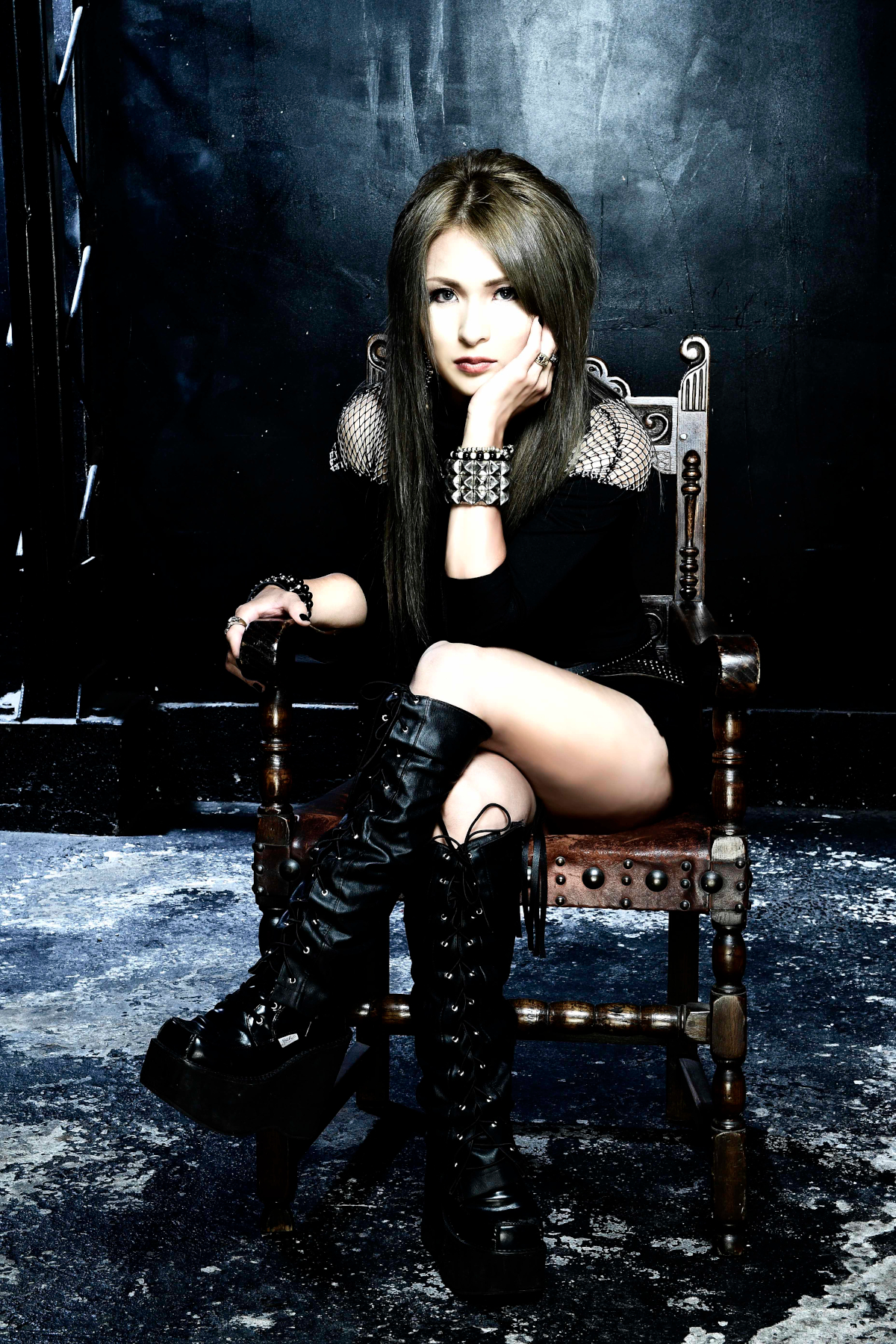 IBUKI Website: https://www.vocal-ibuki.com/
IBUKI Twitter: https://twitter.com/vocal_IBUKI
IBUKI YouTube: https://www.youtube.com/IBUKI
IBUKI Facebook: https://www.facebook.com/vocalIBUKI/
Natsumetal Website: https://www.vocal-ibuki.com/natsumetal/
Vocal lessons: https://www.xiaolinonline.net/ibuki-vo-lesson
© Copyright 2020 UniJolt