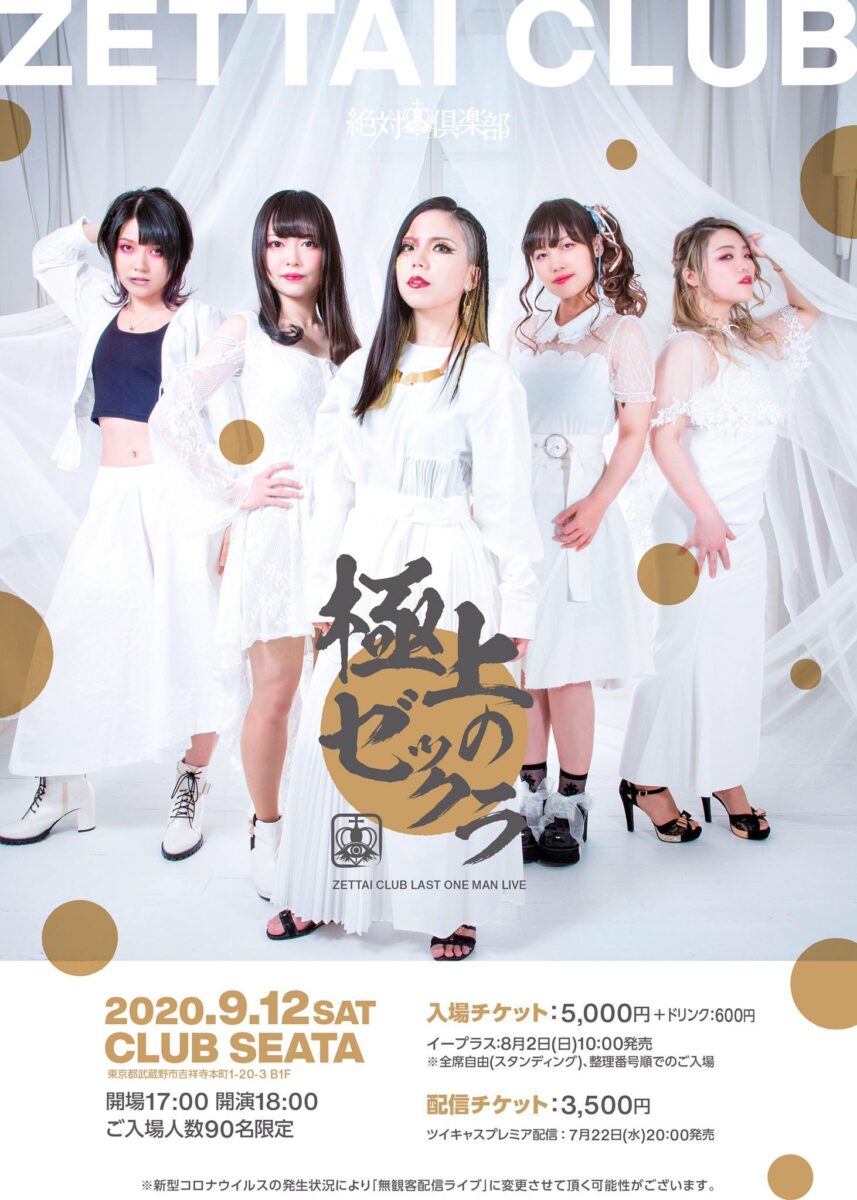 Upon the heels of the release of their latest single Judgement, Zettai Club announced that they would be disbanding. Originally the group had meant to disband on May 9th, the final one-man live was postponed until September.
On Saturday, September 12th Zettai Club will be holding their final live performance. It will be a combination audience & online broadcast via Twitcasting. Tickets are currently available for 3,500 Yen at the link below. Definitely do not miss this! Those unfamiliar with Zettai Club, this is a good opportunity to see a fantastic band giving their fans a proper send-off (and a chance to catch up on what you've missed)!
https://twitcasting.tv/club_seata/shopcart/15648
Zettai Club – Final One-Man Live
Saturday September 12th, 2020
Japan (JST) – 1800
USA PDT – 2AM
USA EDT – 5AM
London – 10AM
【無観客配信ライブ】
絶対倶楽部ラストワンマン『極上のゼックラ』

2020年9月12日(土) 18時開演

配信チケットはこちらからご購入いただけます。
ツイキャスプレミア配信
価格:3,500円https://t.co/oF2XYhHOf8 pic.twitter.com/JJC2E78UZt

— 絶対倶楽部 (@ZETTAI_CLUB) August 2, 2020
Need more Zettai Club? Of course you do!
Official Website: https://www.zettai-club.com/
Twitter: https://twitter.com/ZETTAI_CLUB
Youtube: Zettai Club Channel
Buy their music:
CD Japan
Disk Union
HMV