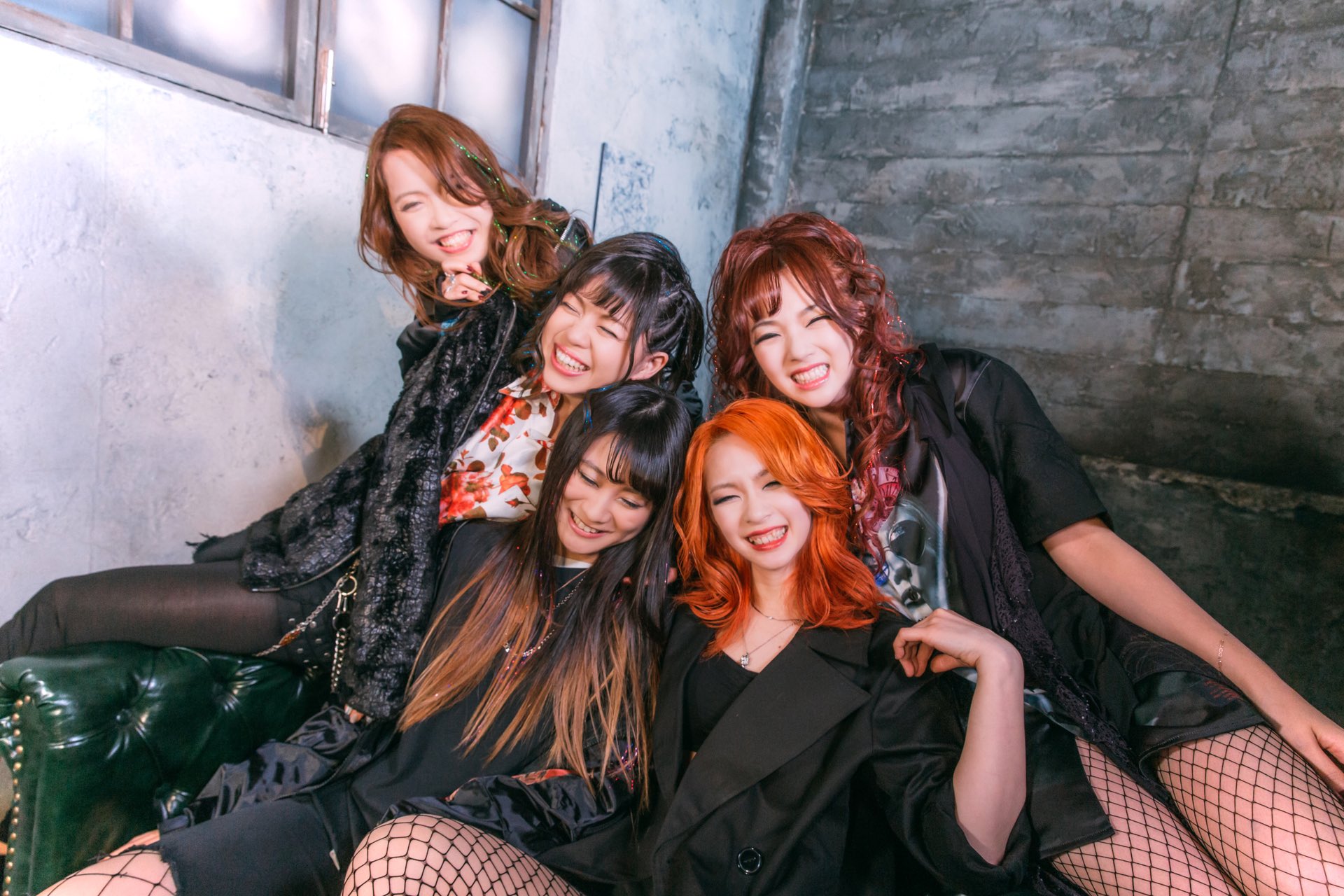 NEMOPHILA
Interview by Todd Nelson, Matt Clark, and Brian Galloway
Translation by Cap Hayes and Matt Clark
March 13, 2021
NEMOPHILA is an all female 5-piece metal band formed in 2019. The band has quickly grown in popularity both in Japan and abroad. Although the group is fairly new, those who follow the rock and metal scene in Japan will certainly recognize the veterans in this lineup. NEMOPHILA are: mayu (Vo.), SAKI (Gt.), Hazuki (Gt.), Haraguchisan (Ba.), Tamu (Dr.)
Congratulations on your single/MV "DISSENSION," the reception overseas has been very positive. Fans are really looking forward to hearing the CD/digital release.
NEMOPHILA: Thank you.
My understanding is that the band was originally supposed to be a one-off session as the "Mayu Session Band". How did the five of you come together for that?
mayu: At first I was saying 'I want to start a band…', so I contacted Hara-chan… our bassist Haraguchi-san, who was my friend from school. I invited Haraguchi-san and at first we found Tam-san by magazine and website posts and asked if she wanted to join our band. We got talking, and I can't play guitar well, so we were introduced to Saki. Saki-san introduced us to Hazuki-san, and that's how we all met.
What was the deciding factor that made you all decide to form as an official band?
Tamu: We felt like we all had a good groove together, so we wanted to keep going.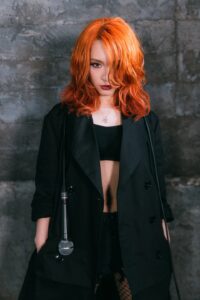 Does the name of your band have any special meaning, and how/why did you choose the name NEMOPHILA?
mayu: We all got together at the beginning and the word "SORAI" came to mind for me. The word "SORAI" was refreshing, but the meaning was difficult, so we tried to soften it and thought of the name of a flower instead.
So Nemophila is a flower?
mayu: Yes, a flower. Because we are all girls, I wanted to use a name for a flower. I searched for a soft name from a lot of flowers, and we found Nemophila.
The songs you've released so far are quite diverse in terms of style in heavier music, from full-on metalcore/new metal ("DISSENSION," "RAITEI") to poppier, more melodic J-metal sounds ("MONSTERS," "Life") without seeming the least bit unfocused at any of them. How does the band's songwriting process accommodate that wide range?
Hazuki: When we reach out to Akiyama-san (composer/arrangement), we always welcome his input. For example, he tells us when a phrase is cool, or when we should try something different. He suggests in a song where mayu should use a shout voice or where a phrase to go along with a shout might fit best, he has a lot of input. Like which songs will really shine live, like the song called "Life" that has a lot of chorus in it. For Saki's song "MONSTERS" as well as another song that we performed live that hasn't been released yet, we're taking into account all the member's thoughts. We're always thinking of things that can enhance NEMOPHILA.
To mayu: I believe in your previous band you sang only with clean vocals, although with a lot of grit. Is your singing with NEMOPHILA the first time you have performed harsh/screaming vocals? They sound excellent! On those songs that have screaming vocals you also sing clean vocals, shifting back and forth seamlessly. Is that difficult to do, and did you have any special training to do so?
mayu: I have had some experience with scream vocals in the past and feel that is really in my wheelhouse. Clean vocals are a little more challenging for me, and switching between the two is the most difficult, but I feel I have gotten better with that.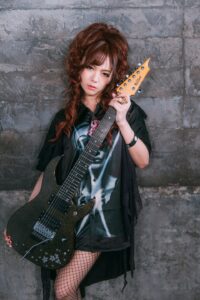 Who were some of your vocal influences?
mayu: I like Dave Grohl from the Foo Fighters.
Has metal always been your vocal style of choice? If not, how did you find your way to metal?
mayu: I used to listen to more like American Rock and Grunge, but I'm getting more into the coolness of Metal sound. Now I've started to listen to more popular metal.
To mayu: As the primary lyric writer, do you also write the vocal melodies?
mayu: Primarily Akiyama-san and SAKI have done the melody writing in the past, if I have some arrangement I want to make or some input about how I think a song should go, they take that into consideration when writing the song. Going forward I want to be more involved in writing the melodies as well.
It seems like everyone in the band has some singing ability, how do you decide to give someone other than mayu more of a singing role on a song?
mayu: When we are coming up with the songs and also working on the songs and doing them, sometimes it just stands out who is a good fit for it. Other times I will just say 'hey, can you try singing this part', and we'll see if it fits.
With three singles under your belt now, all of which have sold out multiple pressings, are there plans for a full-length release in the future?
Tamu: We would like to.
Haraguchisan: I want to!
Are you currently working on a new album?
Tamu: From now.
Over the past year, you have released a lot of cover songs of western and Japanese metal and rock classics on your YouTube channel. They are awesome thank for doing them! How did the band decide on which songs to cover? Did each of you select personal favorites?
mayu: I have picked all the songs.
So, you decided to cover Minions/Banana?
(NEMOPHILA laughing, mayu laughing shaking her head no)
SAKI: For that one, someone from Akiyama's team suggested the "Banana" song, since we wanted to do something special for Christmas. We weren't familiar with the song at all, it was really fun combining the happy Minion song with metal.
You all enjoyed covering it?
NEMOPHILA: Yes! (Haraguchisan thumbs up)
To SAKI: Since it is your favorite band any chance a Seikima-II song will be covered?
SAKI: No, no plans. There is a problem with many male vocal metal songs due to the key, we were able to do X-Japan since that is in a higher key than most.
Can you tell us about any future covers songs you might do?
Haraguchisan: I would like for us to do an anime cover.
SAKI: (to UniJolt) What do you guys think about us doing an anime cover?
That would be great!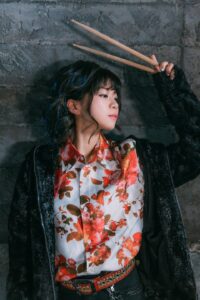 As an alternative to live shows attended by fans, you have held no-audience lives. Many overseas fans enjoyed these lives, ourselves included. What has fan feedback been like?
Tamu: Even from the overseas fans we are hearing, 'we really want to come see you live'.
Speaking of fan feedback, it seems like mainly a western phenomenon but how does NEMOPHILA "react" to reaction videos?
NEMOPHILA (smiling and laughing)
Tamu: We really enjoy watching them.
NEMOPHILA: Yes, very much.
SAKI: Japanese YouTuber's don't typically do that type of content, it seems to be a Western culture thing.
Live shows with audiences have resumed in Japan to an extent. Does NEMOPHILA have any plans for live shows in 2021? Will you do more streaming shows? Or both?
SAKI: We have plans to do both. Details will be coming soon.
Speaking of live shows, NEMOPHILA collaborated with Keiko Terada and Gacharic Spin in an online event spin off of Naon no Yaon late last year. If you can say, is there a chance that NEMOPHILA will be a part of Naon no Yaon in 2021 when it returns to Hibiya Park?
SAKI: Yes, we will be playing at Naon no Yaon this year. It will be officially announced at the end of March.
Although NEMOPHILA is still a relatively new band, there has been a lot of buzz and excitement from fans. What has been your most surprising or satisfying experience so far?
mayu: The sheer number of views and comments we have been getting on our videos has been a pleasant surprise. Also the number of followers for our YouTube channel has really grown.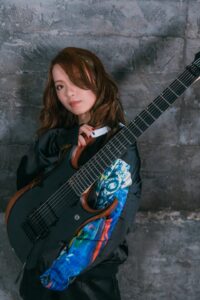 To the band, what is your songwriting process like? Does the songwriter bring a complete demo with all the parts to the band? Or more of a "skeleton" where the other members fill in their parts? Or both?
Hazuki: Some of the songs are from our composer (Akiyama-san), some of them are SAKI's songs. We often play a song written by our members in our live shows too. What you hear in the released version is most of the time much louder and heavier than the original demo version. For the solo part, SAKI and I will come up with our own solo. Tamu's drum usually becomes more aggressive during the process.
SAKI-san and Hazuki-san, how do you decide to break up the lead work and solos?
Hazuki: Its about half and half when we are playing in the studio, but we generally decide by talking about it.
SAKI: It just depends on how we feel on the individual song.
To Hazuki: We saw your YouTube video featuring your artwork, it is quite good! Is there a possibility that some of your work could be used as cover art/jacket inserts for any of the band's future releases? Or maybe some related Nemophila merch featuring your art?
Hazuki: It is more of a hobby, and I haven't done any formal studying. If someone were to ask me to do something like that I would want to bone up on it a bit more.
Hazuki-san, congratulations on being announced as an Ibanez guitarist. Congratulations to SAKI as well on recently releasing a signature guitar with Killer. Hazuki-san are there any plans to release a signature guitar with Ibanez?
Hazuki: Thank you. Of course I would like to, but Ibanez signature guitar models aren't really a thing in Japan.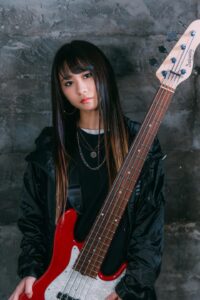 Haraguchisan: I think in all the videos I've seen, you have used a 5-string bass exclusively. Can I ask what tuning you typically use?
Haraguchisan: Most of the songs are in standard tuning, but "OIRAN" is in Eb tuning (half step down).
You alternate between using a pick or finger style picking. Do you have a preference?
Haraguchisan: I like both, but finger style edges the pick out a little bit. I think it has more thickness in the sound.
What would you say are the most challenging and satisfying songs for you to play?
Haraguchisan: I like to play "RAITEI", but it requires a lot of muscle strength.
What is everyone's favorite Nemophila song to play?
mayu: "SORAI".
Tamu: "SORAI".
Hazuki: "DISSENSION".
Haraguchisan: "SORAI".
SAKI: "DISSENSION".
To Tamu: We've seen you play keys on a few YouTube uploads, in addition to drums. Do you happen to play the keyboard part on "MONSTERS" ?
Tamu: (Laughing) No, it's not me.
SAKI: It's MIDI programming on that song.
Metal bands writing songs for anime openers seems to be very popular these days. If NEMOPHILA were to write their own song for an anime, what genre do you think would fit you best?
mayu: Battle. (mecha/gundam)
Haraguchisan: Yes, Battle.
To all the members, some readers on our website are "gear heads" and like reading about the equipment you use. Is there any special equipment that you use, such as your choice of guitars, mics, amps, etc., that you would like to let our readers know about?
mayu: I am not into any particular gear, but I use a Shure SM58 for my mic.
Hazuki: I am using an Ibanez RGD and a Kemper modeling amp, if I am using a real amp I like Friedman.
Haraguchisan: I use a Sadowsky Metroline RV5 5 String Bass.
Tamu: I just got a new Tama snare, and it has me hyped.
SAKI: I am using Killer guitars, AXE-FX III Fractal, and Marshall amps.
SAKI-san, you have gone out of your way to accommodate overseas fans, from being very interactive on Twitter to ensuring the BASE shop accepts overseas orders. I think I can confidently say "thank you" on their behalf. We would also like to thank you for making that video with Mayu where Saki spoke in English. Really appreciated overseas.
SAKI: Thank you too.
Would the band like to say anything to their overseas fans?
mayu: Please continue to wait for us. We'll definitely come to you. I want you to look forward to it.
Thank you again for joining us.
NEMOPHILA Website: https://nemophila.tokyo/
NEMOPHILA Twitter: https://twitter.com/NEMOPHILA_band
NEMOPHILA YouTube: https://www.youtube.com/channel/UCvoAeGZoC8giXP59NOZABIA
mayu Twitter: https://twitter.com/my_rock_11
SAKI Twitter: https://twitter.com/_chakixx_
Hazuki Twitter: https://twitter.com/mochimochimuuch
Haraguchisan Twitter: https://twitter.com/ParaRock_BCN
Tamu Murata Twitter: https://twitter.com/tamu_murata_dr
© Copyright 2021 UniJolt