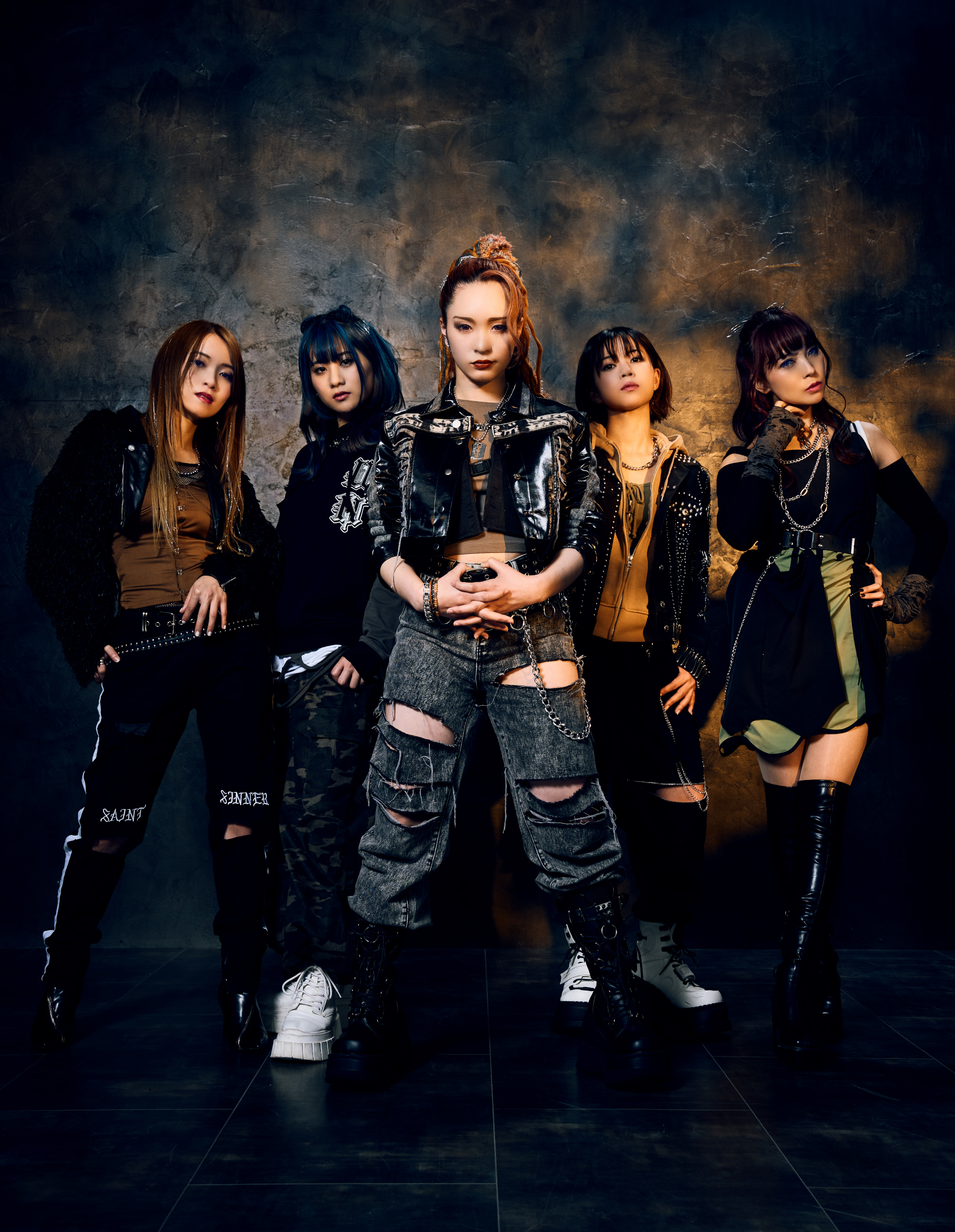 NEMOPHILA
Interview by Todd Nelson
March 17, 2023
NEMOPHILA is an all-female 5-piece band formed in 2019. The band is currently in the middle of their first US tour.  We were able to sit down with them during SXSW and discuss several topics, including their recent album and touring experiences.  NEMOPHILA are: mayu (Vo.), SAKI (Gt.), Hazuki (Gt.), Haraguchi-san (Ba.), Murata Tamu (Dr.)
The past few months have been pretty eventful for the band, with the release of Seize the Fate, your Zepp Japan tour, and the US tour currently happening. Congratulations!
NEMOPHILA: Thank you.
Many tracks on Seize the Fate merge several genres with metal yet keep that 'NEMOPHILA' sound and mood. "炎天 -ENTEN-" contains traditional Japanese vocals and instruments, "STYLE" features rap and grunge, "Back into the wild" has an old school 80s sound, and "Waiting for you" with punk and idol elements.  In the making of this album did the band go in with the intention of exploring different genres?
mayu: So, with this album, our number one priority was to decide what is NEMOPHILA? What is the NEMOPHILA sound? That was the first thing in our minds, what we were really focused on initially, we talked about it, made our decision, and proceeded to make the second album.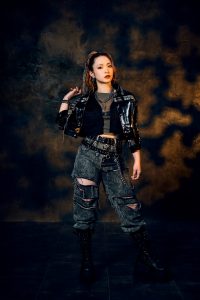 So, for this album, did you also work with the same arrangement team like on your previous output, Akiyama-san and Oka-san in particular?
SAKI: Yes.
Many of the songs lyrical themes have the positive message of overcoming, self-empowerment, and being true to yourself.  This come in the songs "REVIVE", "RISE", and "A Ray Of Light" to name a few, are those inspired from your own life experiences?
mayu: Yes.
I am hoping for a little more expansion on that. (laughing)
SAKI: So, the lyrics for "REVIVE" were written by mayu, "RISE" was written by myself and mayu, and I wrote the lyrics for "A Ray Of Light". Certainly, it's not based on my life experiences, when we started NEMOPHILA, we wanted to make music that focuses on the positive.
Very cool, most music from this genre does not have that kind of message.
SAKI: Yes. Depending on the songs, not only the lyrics, but also the composing of the music, it's not done by just one person. One member may make the lyrics, or one may make the song, but then we come together and complete it together with everyone. So. Yeah, it really varies with the songs.
mayu: So, yes for the songs I wrote, it is really from my experiences and emotions. We share all our experiences together, because as a band we want to give a positive message.
A number of tracks have English lyrics or have English lyric versions, is that something that will continue?
SAKI and mayu: Yes.
Does the band also write the English lyrics?
SAKI: Yes. We write the lyrics in English and the translator will fix or correct them if needed.
(To mayu) The last time we interviewed you, you expressed the desire to be more involved in writing melodies, have you had the opportunity to do that since then?
mayu: Oh yeah definitely, so I wrote the song "RISE", it is a representing song for me where I was able to give 100%, 100% emotions and feelings into that song, I'm very happy about that.

Some songs you've performed live fairly frequently, but they have not been recorded. Are there any plans to record "Night Flight", "Breaking Out" or "Blooming"?
mayu: Yes.
Tamu: It will be out, please wait for it.
So, I have a follow up question then, will Tamu and Haraguchi-san participate in the vocal duties on these particular songs like they do in the live versions?
Haraguchi-san and Tamu: (hesitantly) hmmm, maybe?
(all members laughing)
mayu: It is Haraguchi-san who says 'Hai' at the very end of "ZEN".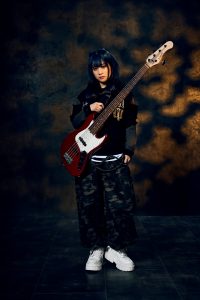 I was wondering who that was when I first heard it. Well, you both did such a wonderful job on the Blu-ray I'm hoping you do it that way when you record.
Haraguchi-san and Tamu: Thank you.
Since the last time we talked; you've released quite a few music videos. I was wondering what kind on input you have for the concepts in those videos when they are made?
mayu: Which ones would you like to talk about?
"STYLE" for one, the concept of it, wondering if it was an idea the band had.
Haraguchi-san: The song itself was kind of like, how should I say outgoing, boyish, like maybe a 'party going on' style song. So, this image I had, I got this inspiration from Beastie Boys. So, we wanted to make it kind of like an interesting, funny music video.

I was also curious about the "HYPNOSIS" MV, did you come up with the choreography? Now that I think about it, it is done when performed live as well.
Haraguchi-san: Yeah, for "HYPNOSIS" it was kind of challenging for us. Having the director, band members and staff discussing a lot of things, and sorting out a lot of things because shooting a music video in Japan, it's pretty strict. So, we all got together, band members, director, and staff – we all gave and chipped in all the ideas. And then we were able to make it.
Tamu: Personally, I like where mayu dances.
Agreed.
mayu: Thank you.
You're just about to wrap up your US tour how has the experience has been so far? Also, I believe Japan still has some limited restrictions due to COVID so I imagine it has been a while performing for an audience that can fully express themselves along with the band. Just wondering what it's been like.
mayu: So, like you said, the regulation in Japan for the COVID is still strict, the audience has to wear masks. Finally, like maybe a month ago, the audience can shout like if they have a mask on. So yeah, in the US, no one has to wear a mask, everyone can shout, they can dive or mosh, do whatever they want to do. So, it's great to see that, to enjoy that moment with the audience and to see the honest emotion, the honest response from the audience of people in the US. Yeah, it's really great to see that. It makes us really happy.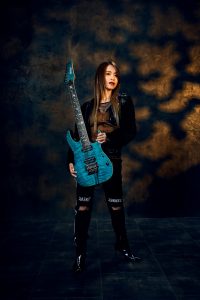 Hazuki: Doing shows here, you know we've performed at some small venues too, and the distance with the audience is like, like really close. You could say no distance, so you can see all these things and how the audience in the US are just so open about their feelings and emotions more than the Japanese audience. So yeah, it's emotional for us, really heartwarming and sometimes I almost cry. We get a lot of power from the audience.
Tamu: This US tour, it is tough, it's really challenging, but it's something that's really improving us, improving our skills emotionally, technically, physically. We're just all about it, jumping up to the next level, so it's a great experience.
SAKI: Girls on the US tour, there are so many girls at the venues, and they are louder than the boys, you know, and they're shouting 'Hara-chan'. So, I'm so happy to see them and hear them shouting.
This is your 3rd time in the US, previously appearing at Aftershock and playing at the legendary Whisky a Go Go. Did it have any special meaning to you playing at that venue given its history?
mayu: When we performed at the Whisky, I felt a lot of in the audience really didn't know about NEMOPHILA or maybe certainly knew about us but didn't fully know what kind of band we are. At the Whisky I think we were able to show them, to present what NEMOPHILA is. And we were able to do that at Aftershock even more due to the bigger audience, since it is a big festival. So yeah, we're happy that we were able to do that at the Whisky and Aftershock. The effect of doing those shows at those two venues was really big, because for the US tour that we're doing now, we can obviously see new fans coming to our shows. We see women coming in. We see children, many different races. Yeah, so we can obviously notice new fans and it's really happy to see that.
Tamu: Yeah, the Whisky was our first overseas show. There were some band members who hadn't been here, it was their first time in the US. So, it was a big challenge really. We were afraid and scared. A big challenge, but yeah, overall, everything has concluded to this US tour, and we were able to see the result with our eyes. So yeah, it's great.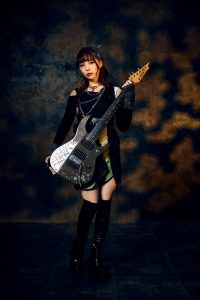 SAKI: About the Whisky, I was really disappointed at our performance, I felt we are not good, since they are not reacting much. So, I thought that when I was playing at the Whisky, after we went back to Japan, we practiced harder than ever. We did many things to change our performance. Yeah, it was good to do the Whisky show because it gave us a lot of motivation to work harder. To me, the audience seemed to be just filming and not having much fun. So, I thought that we didn't give good level performance at Whisky.
I am surprised to hear that, friends that I talked to that went there, said you guys were outstanding.
SAKI: Really? (laughs)
Maybe it is more of a cultural thing with western audiences filming on their phones so much now?
SAKI: Yeah, but it was the same the first day of the US Tour, they were also filming, but they also seemed to be having fun. So, I was so relieved when we did the show at the GOLDFIELD TRADING POST. (First show of the US Tour)
As I mentioned earlier you also played at Aftershock and yesterday at SXSW, when playing overseas do you have a preference between playing at a venue as a 1-man vs. a festival?
mayu: Personally, for me, because I just need a microphone. So, you know, a festival like Aftershock, where there's many other bands and many big audiences; Yeah, it's great. It's fun and I enjoy it, but I feel like other members are having a hard time when it comes to festivals, switching out and setting up equipment, etc.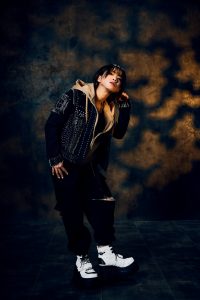 When not performing have you had the opportunity to participate in any fun activities or sample the local cuisine?
mayu: We went to the NASA space center in Houston.
SAKI: So, we stayed in an Airbnb, it was so fun to stay together with members and staff. The Airbnb was called the castle. We did a live stream talk show from there. Herman Li from DragonForce came there to visit us.
It would be cool if you can tour together, I know they did with LOVEBITES so maybe there's a precedent there.
SAKI: Oh yeah, they did a UK tour.
mayu: So, at the Airbnb, Hazuki was making an omelet, and it became perfect.
Hazuki: Egg master!
(Everyone laughing)
mayu: She became an egg master.
(More laughing)
If you are looking for more to do while in Texas, you guys have cherry blossom season in Japan, here in Texas we have bluebonnet season this time of year, I don't know if you've seen them yet, you should be able to see them growing on the sides of the roads.
Tamu: One thing that has surprised me being here, the differences in cultures, I like to walk, but here we go most places by car (due to safety) , when we could just as easily walk instead.
Having toured the US now, does the band have any other future overseas plans?
SAKI: We would like to and look forward to it, yes.
While on this topic, there was one thing I wanted to mention quickly because I know Mexico was originally one of the tour dates. A number of years ago, I went to Mexico City to see LiSA perform there. Those fans have the same energy and enthusiasm as Japanese fans. So, I think you all would love performing in Mexico.
SAKI: We definitely would love to.
(To SAKI) I noticed that NEMOPHILA will be backing Demon Kakka from Seikima-II. I was wondering about your thoughts on that since I believe Seikima-II is your favorite band.
SAKI: They are my favorite band and also, they are the most famous heavy metal band in Japan. So, this opportunity has a very special meaning to our band. I'm a little bit nervous because he's really strict, in a good way, very professional.
I understand for your 4th anniversary show, -Rizing NEMO- , you will be playing at Tokyo Garden Theater. I looked up the size of the venue and was like 'wow, that's amazing!' So, I was wondering, did you ever think the band would grow in popularity as quickly as it has?
mayu: Not at all.
Tamu: It is a challenge for us.
Isn't the capacity like 7000?
SAKI: 8000
Very impressive, that's so cool.
Haraguchi-san: We want American fans to come support us.
I think it's been almost a year since the band did their last cover song on YouTube. I was wondering if there's any plans to do more in the future. I know the overseas fans really enjoy them.
(editor's note: this question was asked a week before the band's cover of "Walk" by the Foo Fighters was uploaded)
mayu: Yes, yes definitely.

Well, if you are looking for suggestions, I would love to see a cover of "No, No, No" by Def Leppard, or maybe a Twitter poll to see what fans may like to see next.
I am pretty sure it is self-explanatory but what is the message you are telling your fans with the title of the final track on your latest album, "Soaring ~ to be continued ~" ?
mayu: It's a long way into the song, but there's this part where everybody can sing kind of like a chorus, where the audience and the band can sing along together. So, for me the big message is you know throughout Covid there were regulations where people couldn't fully enjoy the shows. People couldn't sing or give up any voice at the venue, right? So, I would like to sing along and sing this song along with everybody in the world. To sing this song together, that's the strong message that I put towards the fans, to this song.
Tamu: When I first started making this song, I was thinking about the future. The message focused on the future. What kind of future the band would have? What kind of future would anybody who's listening to this song have? So, the message I wanted to give to the fans is like to think about their future. Think about our future.
Thank you all for your time, I wish you best of luck on the remainder of the tour and the other activities you have planned for the rest of the year.
NEMOPHILA Website: https://nemophila.tokyo/
NEMOPHILA Twitter: https://twitter.com/NEMOPHILA_band
NEMOPHILA YouTube: https://www.youtube.com/channel/UCvoAeGZoC8giXP59NOZABIA
mayu Twitter: https://twitter.com/my_rock_11
SAKI Twitter: https://twitter.com/_chakixx_
Hazuki Twitter: https://twitter.com/mochimochimuuch
Haraguchi-san Twitter: https://twitter.com/haraBCN_sunchan
Tamu Murata Twitter: https://twitter.com/tamu_murata_dr
Pre-order NEMOPHILA's upcoming concert Blu-ray from CDJapan!
NEMOPHILA TOUR 2023 -Seize the Fate-
Title: NEMOPHILA TOUR 2023 – Seize the Fate-
Release date: May 24th, 2023
Description: Blu-ray concert disc featuring the final day of NEMOPHILA's first solo tour "NEMOPHILA TOUR 2023 "Seize the Fate" " held at Zepp DiverCity on February 10, 2023.
© Copyright 2023 UniJolt