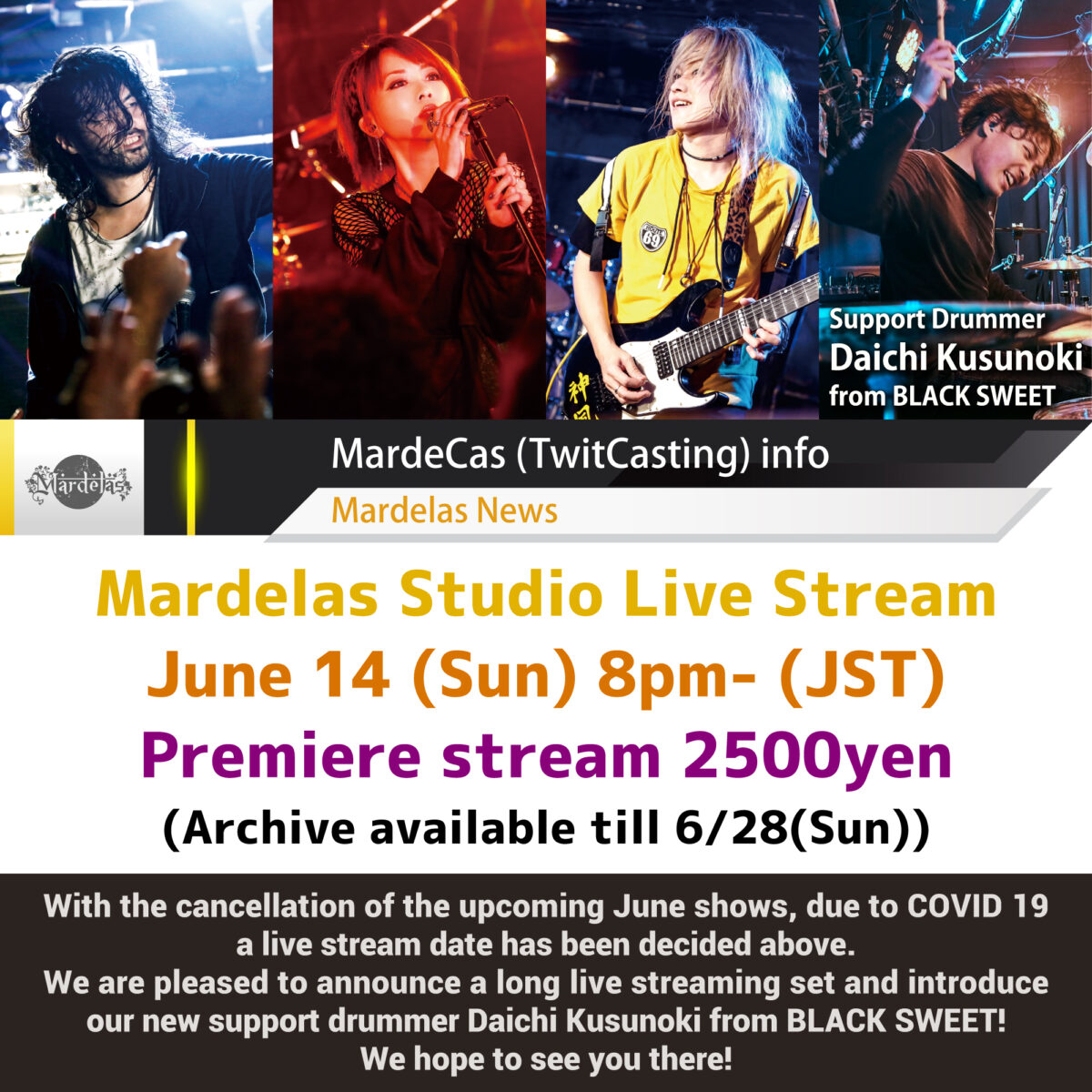 This weekend is certainly looking to be a HOT one from articles Todd recently posted for Mary's Blood and Show-Ya! I'm happy to follow up on that news with Mardelas' own Premium Twitcast. Due to some canceled shows in June because of COVID-19, Mardelas will be streaming live from the studio on June 14th, at 20:00 JST. Unfortunately their regular drummer Yumida "HOT" Hideaki will be on hiatus, however Mardelas will still bring the heat! Daichi Kusunoki from Black Sweet will be covering as support drummer for this performance.
The price of admission for this performance is ¥2500. You can make use of the Twitcasting App on a mobile device or personal computer to watch! The stream will be live on June 14th at 20:00 JST and will be available until Sunday, June 28th JST.
To access this Twitcast, please check the below link:
https://twitcasting.tv/mardelas_info/shopcart/8616
Broadcast timing based on time zones is listed below:
US Eastern – 6/14 at 7 am
US Pacific – 6/14 at 4 am
London – 6/14 at 12 pm
Japan – 6/14 at 8 pm (20時)
If you're still reading this, I take it you want a sample of their sweet music? How about their latest music video, Apocalypse!
Follow Mardelas at the following:
Official Website: http://mardelas.com/
Twitter: https://twitter.com/Mardelas_info
Youtube: https://www.youtube.com/channel/UC9M0Ult3lqOlCkaYNl6QT4w
Facebook: https://www.facebook.com/mardelas.official/