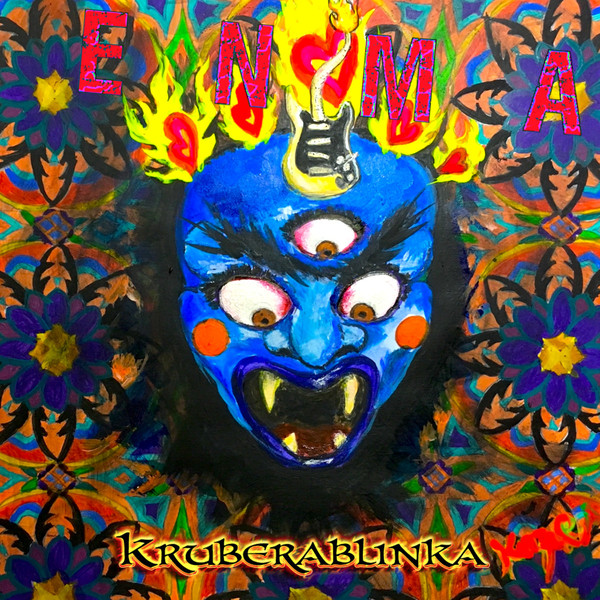 Osaka-based Kruberablinka create music that exists in that sweet spot where blues-based hard rock meets heavy metal. Headed up by legendary vocalist Kazue Akao (Terra Rosa), she formed the band in 2011 with her friend and former Terra Rosa bandmate, guitarist Hiromi Suzuki. Over the past 10 years, they have released:
3 full-lengths
1 live album
3 EPs (including this one)
5 singles
Released in August 2020 in digital-only format via Bandcamp, the 3-song ENMA EP picks up right where The Deepest Place (2018) left off. Suzuki-san is a master at coming up with original riffs and solos. The structures of his compositions give Akao-san plenty of room to create her unique vocal melodies. Suzuki-san's guitar work pulls you in and then Akao-san's powerful and expressive voice commands your attention. She punctuates each song with perfectly-timed percussive vocal interjections.
The original plan (according to Akao-san in an interview that will be published on this site very soon) was to record a full-length for 2020, but the pandemic prevented the full band from getting together in the studio. Akao-san and Suzuki-san worked in their respective home-based studios to create these three songs, with the bass and drums being MIDI sound-sourced. As a result, ENMA ends up being quasi-conceptual, with the lyrics for two of the songs inspired by the covid pandemic.
"Enma" takes its name from the Bhuddist god of hell, and compares navigating daily life in the pandemic to trying to find one's way through Enma's domain — and making the best of it. The original title was "Hell Walk," and the fast-paced urgency of the song — replete with Akao-san's sharp exclamations of "Enma!" — represent one deciding to laugh in the face of the hell they are in.
"Blame of Storm" is the lone song not directly inspired by the pandemic, as Akao-san wrote it as a teenager. With its foreboding sound, and the "storm" of everything going on in the pandemic, however, it seemed the time to record it had finally arrived. I was surprised to find out it was an older song. Yes, it has a classic vibe to it, but I would have attributed that to the blues-based sound Kruberablinka goes for. As it turns out, teenage Akao-san already had a penchant for timeless songwriting and interesting vocal melodies.
"Iron Veil" is another urgent rocker that addresses the feelings of separation caused by the pandemic. Separation from family, friends, and — in the case of the music industry — the separation between artists and fans. Everyone initially put on a good face, but by the time this EP was released (almost six months into the pandemic), the cracks in the façade for many had begun to show.
Lest this review give the impression that this EP is a depressing listen, be assured, it's not. Despite its grim inspiration, the EP is much more hopeful-sounding than one might expect. As mentioned about the title track, it's more about "laughing in the face of hell," instead of succumbing to fear and hopelessness. We might not be able to change our circumstances, but we don't have to be controlled by them, either. ENMA is a defiant middle-finger to the pandemic, saying, "You will not break me."
This attitude, expressed by Akao-san's amazing voice and Suzuki-san's fantastic guitar work, made ENMA my EP of the year for 2020. I highly recommend it.
Bandcamp: https://kruberablinka.bandcamp.com/
Homepage: https://kazueakao.com/Kazue_Akao/Kruberablinka.html
Facebook: https://www.facebook.com/Kruberablinka
Twitter: https://twitter.com/kruberablinka
YouTube: https://www.youtube.com/user/evelynsnake