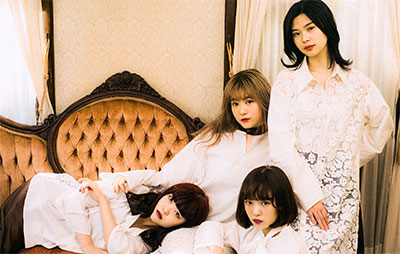 After the worldwide shutdown caused the cancellation of GIRLFRIEND's overseas appearances, fans have been wondering what's next for the band. Today OTAQUEST and GIRLFRIEND announced that the band will be one of OTAQUEST's special music performers.
OTAQUEST is an online virtual Anime Convention that runs August 15th and 16th of this year. The band teased us earlier today with an announcement that we can see then perform on Sunday the 16th and that they may have some surprises for us!
We are all super excited to perform for all of you watching OTAQUEST CONNECT on August 16th. Maybe we'll have some surprises for you!

8月16日に開催されるOTAQUEST CONNECTに出演することが決定しました!
詳細はこちらからhttps://t.co/4XwXl20LnJ #otaquest #otaquestconnect pic.twitter.com/kAveJmu3Rl

— GIRLFRIEND STAFF (バンド) (@GIRLFRIENDJAPAN) July 23, 2020
Fans online are already speculating about what the special surprises might be.
OTAQUEST CONNECT Website: https://otaquest.com/connect/
OTAQUEST CONNECT Musical Act Info: https://www.otaquest.com/otaquest-connect-powered-by-anime-central-adds-unique-music-experiences/
GIRLFRIEND Website: http://www.girlfriend.band/
GIRLFRIEND Twitter: https://twitter.com/GIRLFRIENDJAPAN
GIRLFRIEND YouTube: https://www.youtube.com/channel/UCuFW_SrYtpktBaShHay174A