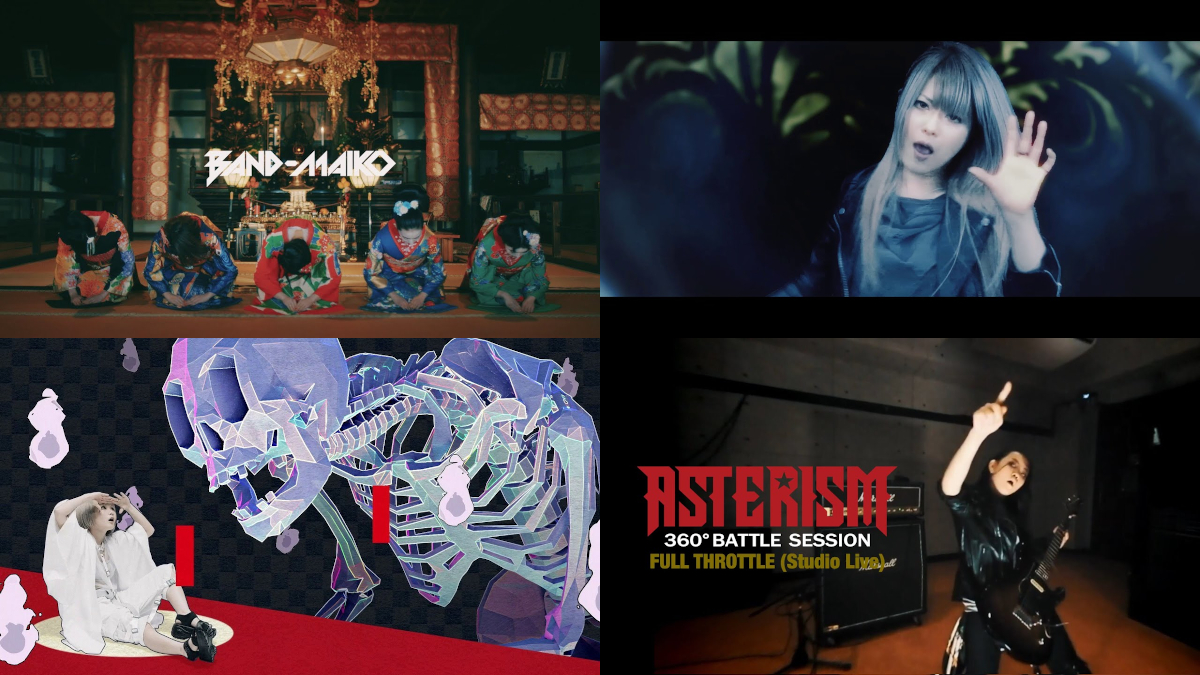 The staff at Unijolt share their favorite and noteworthy MVs from 2019.
Todd's picks:
"KIZASI" VR Version by Unlucky Morpheus
One thing I love about this band is how they are not afraid to take chances. In 2018 they released "CADAVER/REVADAC" – two songs using the same composition with the second playing the notes in reverse. They followed that up with this VR of "KIZASI", which was crowd-funded by their fans. I wish this MV would have more views, but perhaps it is due to the number of people who have VR gear. I watched this on an Oculus Quest and the immersion is absolutely amazing, it is like the band is performing right in front of you! If you have access to VR definitely check it out.
"FULL THROTTLE" by ASTERISM
A live recording of their song "FULL THROTTLE" filmed with a 360 degree camera. No flashy effects, just straight up rock musicianship at its finest. The viewer is in full control to see MIO's, MIYU's, and HAL-CA's technical skills on full display. If you like this one be sure to check out the band's other battle session MVs.
"THE FOLLOWERS" by GALNERYUS
A renaissance era cathedral, a plague doctor, the Eucharist, perfect visuals for a song titled "THE FOLLOWERS." Metal veterans GALNERYUS show that they are among the most talented musicians around as they perform in this gothic setting.
"Zekai no Juliet" by Fuki
Fuki's latest video for the track "Zekai no Juliet" takes the viewer to a beautiful rustic Victorian setting. As the video progresses however, it becomes apparent that all isn't as it seems, and something more sinister is at play. "Zekai no Juliet" is a mixture of anisong and classical music, backed by a kicking dance beat. Fuki's Unlucky Morpheus partner Jill plays violin on this song and is also featured in the video.
Cap's picks:
"Figure" by GIRLFRIEND
GIRLFRIEND delivers another catchy and easy on the ears song with "Figure." One thing I like about this video is that it does a good job of conveying the emotion of the music even if you don't know Japanese. Bonus for people who want to figure out the lyrics, it has Japanese captions.
"Absolutely☆OK" by TsuShiMaMiRe
TsuShiMaMiRe's been doing punk rock for 20 years, and 2019 gave us a couple of new strong entries from them. "Absolutely☆OK" gives us a driving, bass-foward punk rock sound, cool and slightly creepy cinematography in what may be a storage closet, and hilarious lyrics about searching for a boyfriend.
"Phanto(me)" by Reol
While Reol released several new songs and videos in 2019, "Phanto(me)" is the standout in production and catchyness. The video and song both stick with you and you can tell how much fun she had making parts. Readers may also enjoy "Saisaki", which is an absolute favorite song of mine and another well-produced video.
"Walk Around" (cover) by GIRLFREIND
While this is "live", it's also purpose-shot to be a music video. GIRLFRIEND has several covers out now and some fans are saying they are better than the originals. "Arukaround" is another excellent example, creatively played by all members on the same guitar.
Brian's picks:
"Megabullets" by FATE GEAR
Featuring Nana (Theo Nova, ex-Re*asterisk) on vocals, this newly recorded version features two distinct improvements over the original. First, it has a full band. The instruments on the original version were performed by Mina. For a demo, that was fine, but adding real drums (Haruka), bass (Erika), and keyboards (Yuri) to Mina's guitar really beefs up the sound quality and realizes the song's full potential. Second, it has Nana. While there was absolutely nothing wrong with Nico's original vocals, this version takes advantage of Nana's growling abilities and – along with the beefier sound – truly makes this a heavy song. The fact that Nana can also sing clean incredibly well, in the same vein as Nico, this new version is – to my ears – the definitive version of this song.
"Bubble" by BAND-MAID
Paying homage to the Freddie Mercury biopic Bohemian Rhapsody, "Bubble" is a seriously catchy pop/rock number that harkens back to 70s rock radio, when rock didn't have to be heavy to be good. The instrumentation on this song is just phenomenal, with one of the coolest guitar licks I've heard in a long time. Guitarist Kanami, who is the primary composer, just keeps getting better and better, and refuses to let herself be pigeonholed into a certain style or template. Whether it's heavy rock or pop/rock bliss, she can do it all. And the rest of the band is right there with her. Also, the video is just pure fun.
"Holy Knight" by Lipstick
Pure power metal bliss. This version was recorded specially for the HELLO UK!! EP that Lipstick gave away at Metal Matsuri in London. It features Maiko (My Complex of Academy, FATE GEAR support, ex-JULiC) on vocals.
"Gion-cho" by BAND-MAIKO
This song was written especially for the BAND-MAIKO EP, and features the ladies managing to rock out despite being in full maiko gear. The song is fun and the band are having a great time, with lots of little visual jokes for fans of the band's various personas.
"sky & blue" (live) by GIRLFRIEND
This live video captures everything I love about their music. "sky & blue" is well-written and arranged, upbeat, and just plain fun.