Hagane
Start From Here – One Man Live (ここから始まる―ワンマンライブ)
Shibuya (渋谷) Cyclone (Japan, Tokyo, Shibuya) – March 27th, 2020
Live Report by Matt Clark
Photos from Hagane's Twitter Accounts & Screen Captures from the YouTube live
Special thanks to Kawaigara for confirming the title of songs "Flying Infinity" & "Labradorite"
Link to the YouTube Live, still an active link as of 3/29/20: https://www.youtube.com/watch?v=kWtq9n6ZpFc
Enter Hagane! By their own definition, a "harmonic metal band" with "high-tone vocals and powerful musical harmony" that fit comfortably in the Hard Rock / Heavy Metal scene. Their stage costumes are a dashing light blue and white with an almost marching band design. Hagane to date have released two demo CDs available via DiskUnion , proxy by from CD Japan, and live venue.
Started in June of 2018, as shown above from left to right Hagane are:
Guitarist – Mayto
Bass – Sayaka
Vocalist – UYU
Drummer – Kanako
Guitarist – Sakura
2020 so far has been an interesting time for the music industry worldwide. As you may already be aware, live performances are being canceled or postponed left or right. In Japan however, there is definitely a "the show must go on" attitude present in both veteran bands, and newer challenger bands; Hagane is no exception to this. Originally scheduled for March 27th, this one man live was highly anticipated by fans. Hagane were forced to make the emotional decision to cancel their regular live performance at Shibuya Cyclone, however as they still had the booking for the venue they decided to proceed with an online distribution via YouTube for a "No Audience" live. This was their defiant and courageous performance, as emphatically expressed by Hagane's members as a "**** you" to COVID-19.
After some audio & video difficulties on their first attempt of the night to stream live, they reset their performance and started their broadcast anew. The lights dim and their introductory song "Flying Infinity" begins to play, lights bathing the stage in a cool blue. The band take their places and UYU lets out a cry to launch HAGANE into their set with the powerful "Brave." Their sound in my opinion is similar to a mixture of Japanese Rock / Metal band Lipstick and British Metal Gods Judas Priest, they rock the stage with incredible power. "Brave" is a fast paced headbanger featuring wailing guitars and an excellent solo or two with some wonderfully accented licks and riffs.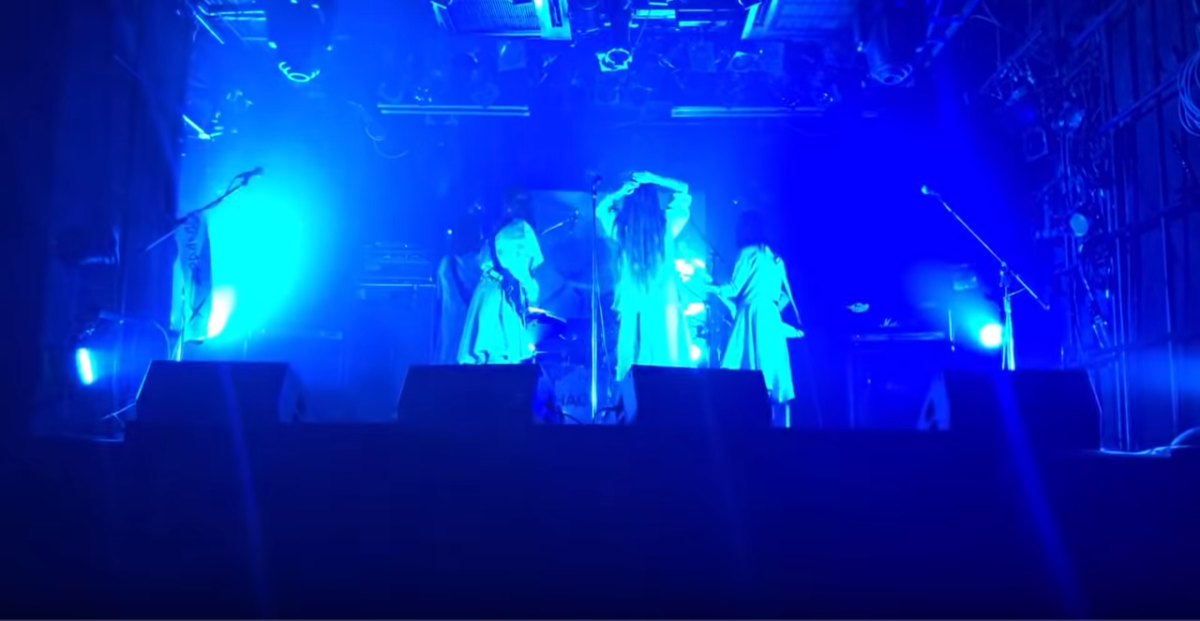 Their next song "Labradorite" is a more moderately paced song, with a steady charging melody to start with UYU's high-toned vocals reaching a peak before a melody break down which launches straight into a fiery solo session between Mayto and Sakura. Personally this has to be one of my favorite songs currently from Hagane as it shows their ability for arrangement and song composition, as well as the range of their talent.
A momentary break in the action is followed by an MC where UYU thanks the audience for watching. She mentions that the next song would be where everyone would usually take out their towels, but probably not a good idea to do that at home… though I'm sure a lot of fans took this under advisement but continued to rock out!
"行くぞう!GUNROCK!" (Lets go! GUNROCK!) a heavier song featuring a melody reminiscent of 80's glam metal, accented with pitch squeals and high tone guitars. Guitarists Mayto and Sakura look like they're having a great time shredding to this. The song ends with a short fade out punctuated by UYU's charismatic flair ending, with her hand simulating taking aim, firing, and blowing the smoke away from her finger tip as if it were a gun. A sure-fire way to get the crowd pumped up.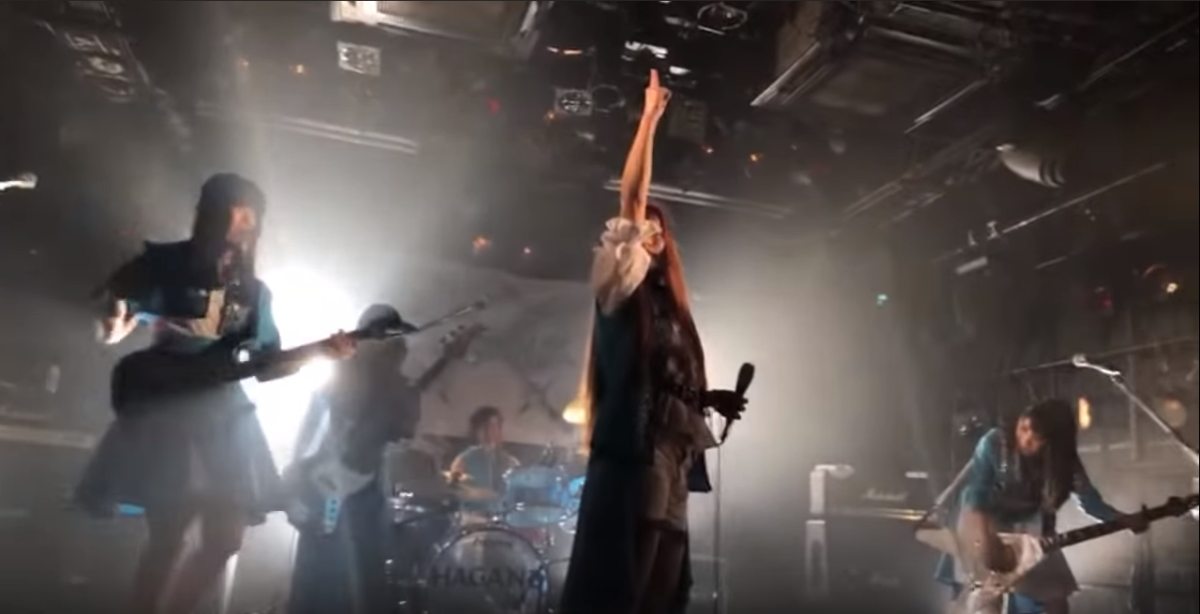 Their next song starts out with an emotional harmonic intro, an interactive crowd song where the audience would sing along and "Connect" with the band. With more of an emotional weight, the bass and drums are showcased behind an understated melody. With piano effects accenting the song, there are several moments where the audience would provide an emotional sing-along response to melody, supporting the chorus.
The next part of their performance they start out by giving the band a little bit of a cool down, as a projector screen drops down… building anticipation! A clash sound is heard and the following message displays in several parts on the project screen!
【重大告知】の前に、

こちらをご覧下さい!⚔️ pic.twitter.com/x0ZUW4suoT

— HAGANE (@hagane_0623) March 29, 2020
2020年4月25日 (2020, April 25th)
初MV公開!! (First Music Video Release!!)
そして (and then)
2020年6月23日 (2020, June 23rd)
HAGANE初の!! (Hagane's first!!)
HAGANE 1st ミニアルバム (Hagane's First Mini Album)
「Episode 0」 の発売が決定!!!! ("Episode Zero" release has been decided!!!!)
おたのしみに!! (Look forward to it!!
The projector lifts and Hagane return to the stage with T-Shirts over their outfits in all blue reading "HAGANE, Japanese Harmonic Metal." What follows is an emotional MC from all the members of the band. Each of the members take turns explaining and thanking the fans / staff for supporting them. They all touch on being saddened or angry about the announcement limiting what they could do for their first one-man live, and that both themselves and the fans were looking forward to this event. They express their hope that the COVID-19 situation ends soon so that they can go back to performing as normal. Hagane bring us back to high spirits as they tell us to look forward to their music video and mini album and introduce some new merchandise. Their new blue T-shirts, showing off the backs of the shirts with bright white wings, a sticker (black and blue), and tease a Hagane poster (not shown in the video).
Feeding off the energy of the fans online and their own energy, Hagane get pumped up and launch into a last song for their encore "Wintry Sky" the subject of their upcoming music video! Wintry Sky is a powerful jam of a song, Uyu's vocals reaching them limit, guitars going full power with over-driven power chords and an excellently harmonized arpeggiated solo. The song ends with a powerful unified front as all members gather at the front of the stage to do a final send off.
They cut off of the main video at that time and then in a charming end shot work through their last take for the night holding up their HAGANE banner. Their excitement contagious, the band take one final bow for the night, waving goodbye.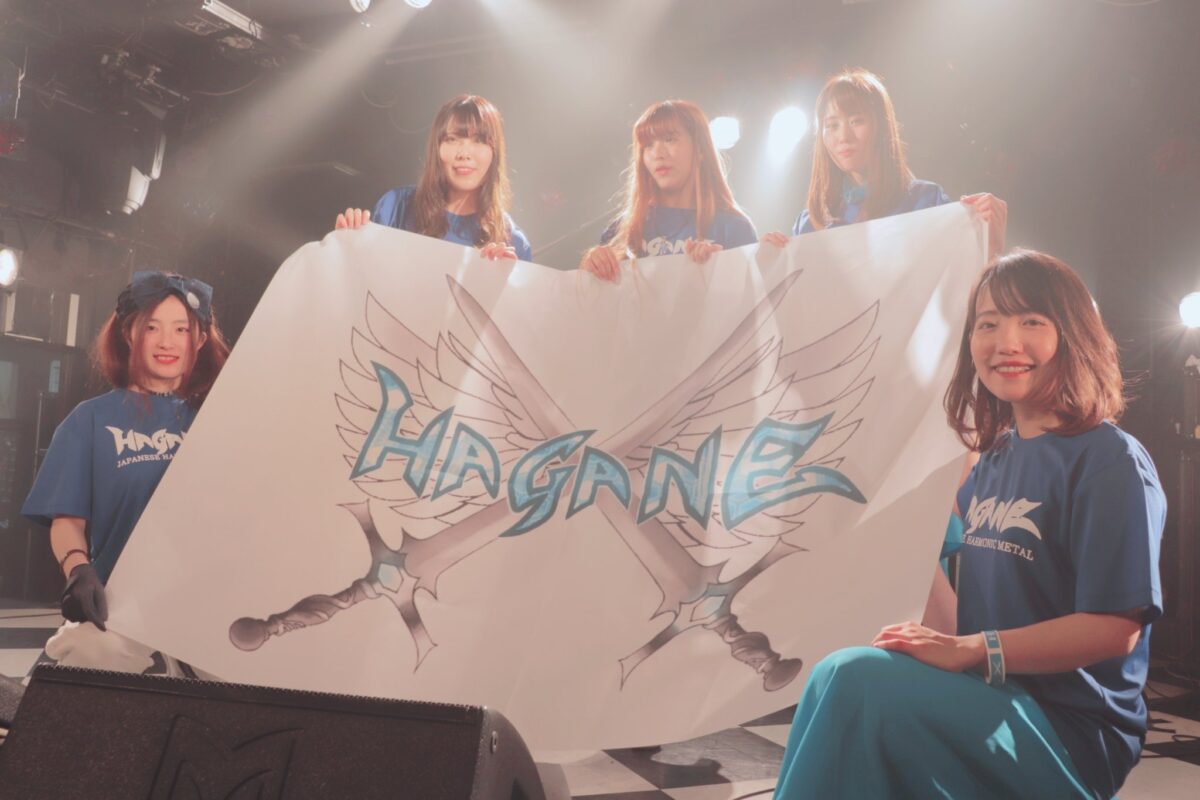 It is my hope that this live report reaches the right people and interest in Hagane increases. They are a wonderful band of talented women, and they have some serious potential. If not that, at least spread word of a completely awesome band!
For the month of January they charted 2nd on the Disk Union Hard Rock / Heavy Metal monthly sales, first place being LOVEBITES – Electric Pentagram. They are a serious contender and worth the opportunity to check their music out. I am hopeful that as they become more popular, they will be signed with a label and their music is more accessible to their fans.
【月間チャート】
1月オンラインショップ・ヘヴィメタル/ハードロック・チャート!!
■ 国内アーティスト
TOP1:LOVEBITES
TOP2:HAGANE
TOP3:soLi
TOP4:END ALL
TOP5:VRAIN
TOP6:INVICTUS
TOP7:仮BAND
TOP8:OCTAVIAGRACE
TOP9:NO MORE PAIN
TOP10:APHRODITEhttps://t.co/SSNbDueXst pic.twitter.com/Velc0Bhr9R

— ディスクユニオンハードロックヘヴィメタル (@diskunionMETAL) February 5, 2020
HAGANE
渋谷Cyclone (Shibuya Cyclone, Tokyo, Japan)
Setlist
1: FLYING INFINITY (Intro SE)
2: BRAVE
3: LABRADORITE
4: -MC-
5: GUNROCK
6: CONNECT
7: Mini Album Announcement
8: MC
– ENCORE –
9: WINTRY SKY
Hagane's Office Website: https://hagane-official.jimdofree.com/
Hagane's Youtube: https://www.youtube.com/channel/UCLrYavXppY_4oRfquHk9VQg
Mayto (Twitter / Youtube)
Sayaka (Twitter)
UYU (Twitter / Instagram)
Kanako (Twitter)
Sakura (Twitter / Instagram / YouTube)
Like Hagane's music? Buy it here:
Proxy by from CD Japan