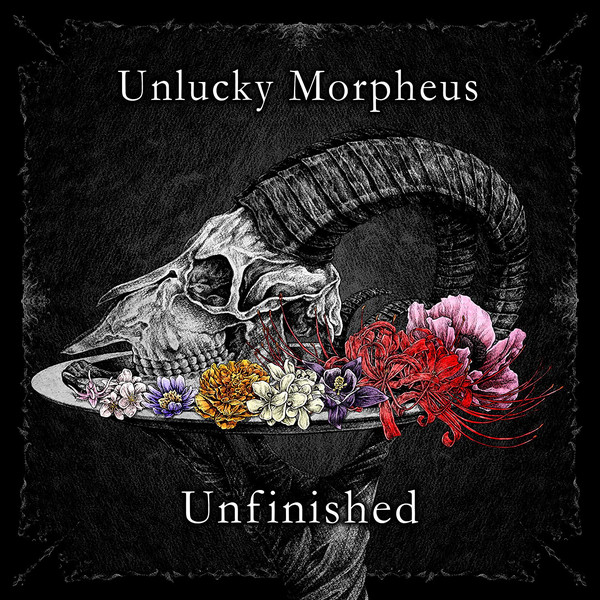 With Unfinished, Unlucky Morpheus have, in my opinion, created their magnum opus. Despite its relatively short length of 33 minutes, it packs a huge punch, incorporating a lot of diverse new sounds while remaining unmistakably Unlucky Morpheus.
Shiren has long since proven his ability as both a composer and arranger, but with Unfinished, he takes both of these skills to new levels. One thing that stood out to me immediately was the increased focus on Jill's violin. Over the last couple of years, Shiren has battled tenosynovitis, which required him to drastically scale back how often he played live. During that time, many songs were rearranged in the live setting to replace his guitar with Jill's violin. With Unfinished, Shiren has embraced this new sound, composing these songs from the ground up with Jill's violin in mind. Jill's violin is as much a lead as Jinya's guitar. I haven't heard this much violin on a rock album since the early days of Kansas.
The updated sound does not mean Shiren has nothing to do, however. He still plays a lead or two and his growls play a much greater role. Unlucky Morpheus have always referred to their sound as "melodic speed metal," which is certainly accurate, but that description could also include the words "symphonic" and "progressive," with a healthy dose of . . . I hesitate to say "Beauty & the Beast," à la Epica, because there have been a host of uninspired bands adopting that vocal style over the last couple of decades. And Unfinished is anything but uninspired. But . . . I am hard pressed to think of a better description. Besides, they do it well. Very, very well.
Lest I not give credit where credit is due, the musical composition for the entire album is credited to Shiren and Unlucky Morpheus. So, while Shiren is the primary composer, each musician puts their own stamp on their particular parts — and everyone brought their A-game. This lineup has been together for five years now, and there is no denying the chemistry. Fuki, Jinya, Ogawa, Jill, and Fumiya are integral members of this band and each of them brings something special to the sound. They know each other's strengths, as well as their own, and these songs let each and every one of them shine.
I will not attempt to describe each track, as I would end up just saying "this is awesome" over and over. I will just say that the opener and title track, "Unfinished," sets the scene perfectly with equal parts beauty and brutality, with both Fuki and Shiren providing perfectly placed vocalizations in the mostly-instrumental track. There's a little bit of everything in this track, and it's awesome. (I did warn you…)
Vocally, this is quite possibly Fuki's finest performance to date. She demonstrates power and restraint, joy and sorrow, strength and vulnerability, and seems to do so effortlessly. Her performance here is a tour de force, and she cements her well-earned status as one of the best singers out there.
All that said, there is one song I do want to call out: album closer "Carry on singing to the sky." With this song, Fuki has done something special. The song is a tribute to singer André Matos, who passed away in 2019, and it's absolutely gorgeous. Fuki wrote it completely in English, which is a first for her, and it's beautifully written. I don't mean that in a backhanded "good for a non-English speaker" way, either. Grammatically and contextually, the lyrics are perfect. And they are so poetic. There aren't many native English speakers who could do as well. They are beautiful and impactful. Anyone who is familiar with Matos will have a difficult time not loving this song.
What makes this a great song, though, is the fact that it's written in such a way as to allow it to be very personal to the listener as well. Whether you know who it's about or not, it is powerful. It perfectly describes losing a loved one: the grief of loss combined with the hope of seeing them once again when we shed this mortal coil.
As I was listening to the song for the first time, reading the lyrics from the booklet, it brought to mind my wife, who passed away seven years ago. The anguish of losing her, but the hope of — one day — seeing her again. It's so beautiful and heartfelt, full of sentiment but not maudlin or melodramatic. Just . . . beautiful.
Fuki's lyrics combined with the absolutely majestic music managed to do what only a handful of songs have ever done: brought me to tears. Actually, that's not quite accurate.
As she sang the final epic chorus, in the way that only she can…
Follow the way to the greatest heaven
Carry on singing to the sky
You don't have to cry now
Believe in me
We'll shine your life someday
…it broke me. It absolutely broke me. Just typing out those few lines made me tear up. In the midst of grief, there can be comfort. There is sorrow, but there is also joy. There is pain, but there is also hope. There is tragedy, but there is also triumph.
The entire album is fantastic, and it's seriously contending for my AOTY (Album of the Year) right now. But with these words, Fuki created something absolutely magical.
All I can say is どうもありがとうございました.
Homepage: https://sound.jp/ankimo/
Instagram: https://www.instagram.com/ankimo_official/
Twitter: https://twitter.com/ankimo_official
YouTube: https://www.youtube.com/channel/UCKQPvkXu59Ei4nHyl83dF2g