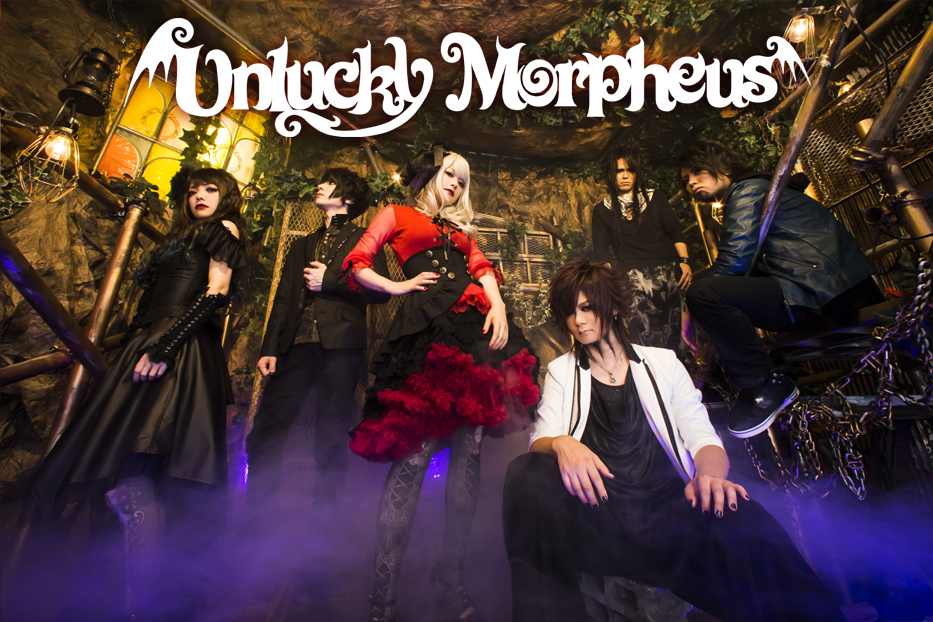 Unlucky Morpheus
Interview by Todd Nelson
Translation by Harumi Arita
August 22, 2018
Unlucky Morpheus founders Shiren and Fuki discuss the creation of CADAVER/REVADAC, their participation in DOLL$FESTA, and reveal details about the band's upcoming album Change Of Generation.
The band released the EP CADAVER/REVADAC a few months ago. What gave you the idea to compose two songs using the same sheet music, the latter having the notes played in reverse?
Shiren: I awoke one morning, and the idea suddenly came to me, and then remembered that I'd dreamt about it the night before. I immediately began composing the first hook.
How long did it take to complete?
Shiren: The production period took about three months, but I was working on a few other things at the same time, so I composed a little each day. The completion of this piece took just a little longer than other songs.
What were the reactions from the other members when you shared with them what you were undertaking?
Shiren: I first told Fuki about it, she just said "…I see."
Fuki: (laughs) I didn't really understand how amazing the concept was. I think he's a very talented person who comes up with ideas like this all the time, so I took it lightly like "Hmmm, he started something interesting again."
Shiren: I was careful not to let anyone but the band members know about it.
Fuki: Because it was such a great idea!
Shiren: I thought the worst thing that could happen would be if my idea was ripped off while I was composing, so I told the members not to reveal what I was working on.
Fuki: It was just between us.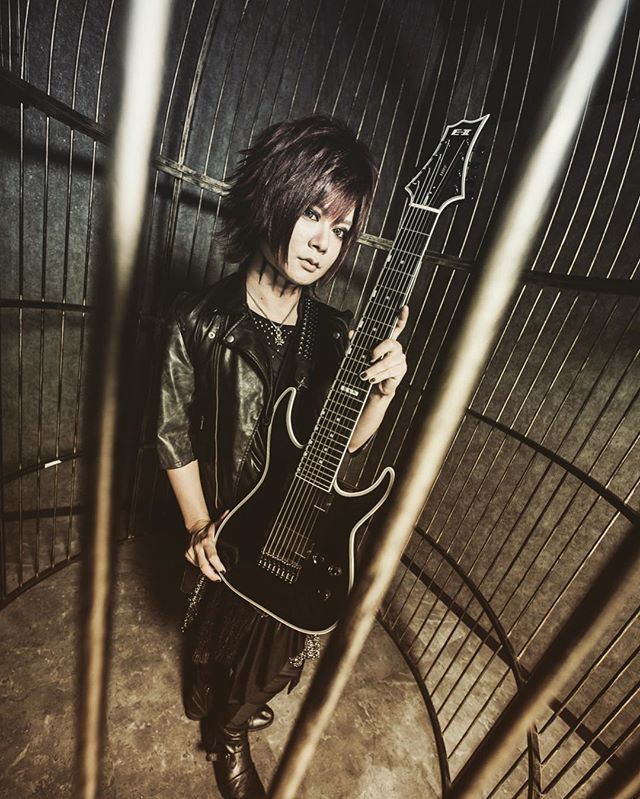 The lyrics to both songs have mirrored/inverted themes as well?
Fuki: Yes, that's right. Whose idea was it originally? Shiren's?
Shiren: Well, I think it was mine. It would be odd if the lyrics to both songs had been unrelated even though these melodies are inverted, so from the very beginning I had in mind that the lyrics would relate to each other. Since I'd heard about the technology of turning human ashes into diamonds, I knew the lyrics of "CADAVER" would be about this. Then quite the opposite, I made a fantasy story of calling humans back to life from the diamonds for the lyrics of "REVADAC".
Fuki: Since the melodies are inverted, we talked and felt we definitely had to do the same in writing the lyrics.
Is the first line in "REVADAC" sung backwards?
Fuki: It is. A Swiss company invented the technology to turn the ashes to diamonds, so I chose German. The first line is "tnamaiD muz ehcsA red noV" — a backwards reading of a German phrase "Von der Asche zum Diamant". It means "From the Ashes to Diamonds".
You released your 2nd "re-record" in May, Saireco Jealousy (from 2009's Jealousy). Many things stand out in the re-record, FUMIYA's drumming and Jill's violin are especially prominent. On certain parts in "Jealousy of Silence", her violin sounds like it is attacking, reminiscent of Bernard Herrmann's "Psycho". With both Rebirth Revisited and Saireco Jealousy, how were things different in creating the re-recordings vs. the originals?
Shiren: Well, anything and everything was different. We recorded the first Jealousy nine years ago, at that time I played all the musical instruments or programmed them and Fuki sang. This time Jinya played the guitar and the other members also played their respective instruments.
Fuki: Yes, this time all the instruments were recorded live, with no programming involved.
Shiren: I knew the sound would be obviously more powerful. Nine years ago, I programmed the drum sound to be like live music. But of course, FUMIYA's drum playing is much more aggressive and that's a big difference. I also didn't foresee that we would have a violinist in our band at that time. I've been composing songs with a violin for a long time, so I feel like what I wanted to do back then is now a reality. During that time, I forced myself to program a sound similar to what I had been dreaming, but now I'm pleased that it's become realized at a high level by our current band members.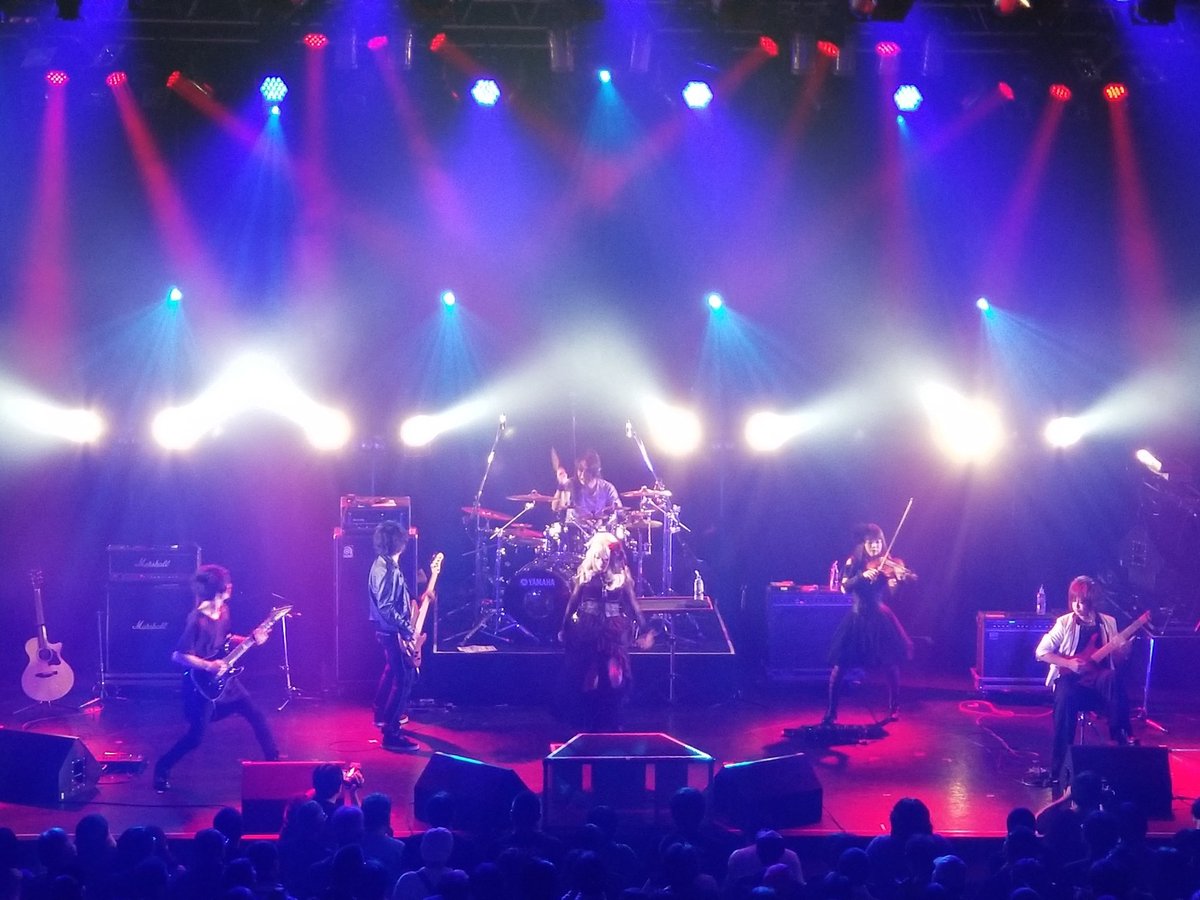 Unlucky Morpheus recently released VAMPIR, Black Pentagram, and CADAVER/REVADAC on digital and streaming services. Are there any plans to release any of the band's older out of print albums digitally?
Shiren: Yes, there are. The first sources that we could find to be used for digital releases, such as high resolution album artwork and high quality sound files, were those three.
Fuki: (laughs) For now.
Shiren: Affected will be released one of these days when we locate the files. Our Touhou arranged songs will always be issued on CD only.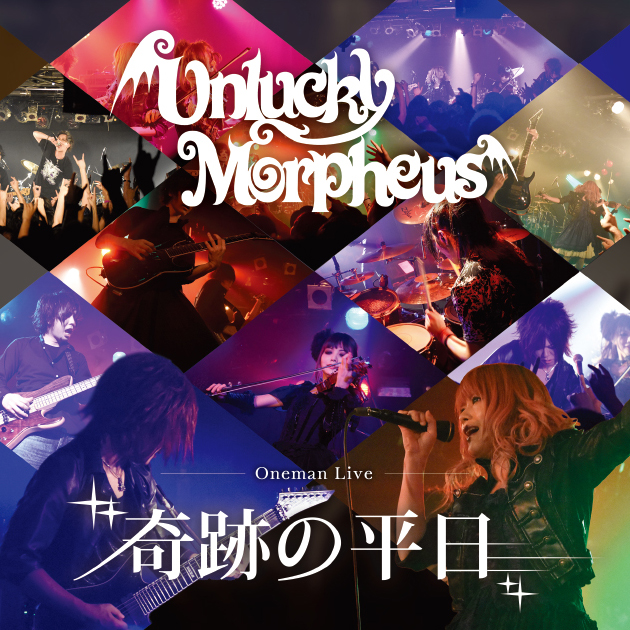 The band has a new full-length album scheduled for release soon?
Shiren: Our new album will be released on September 19th. We're also releasing a live album on CD on August 10th.
Fuki: We will announce it this weekend at DOLL$FESTA. The live album was recorded on September 14, 2017, and we'll release it on August 10th. It's not the same concert as the previously released live DVD. The studio album which will be released on the 19th of September is a full-length album including 13 songs.
One of the new songs, "Knight of Sword", picks up right where "CADAVER/REVADAC" left off. It has a lot going on, and different parts remind me of "La voix du Sang" and "Change of Generation", and there is even a cool bass solo. Can you tell me more about it?
Shiren: That's the lead track. I think it is very "Unlucky Morpheus" with its symphonic and fast sound. This song is inspired by the anime Fate/stay night.
Fuki: Shiren wrote the lyrics for this one.
There will be three more "re-records" on this new album – "Kyomou no koibito", "Wings", and "Change of Generation", which are among my favorite Ankimo songs. Was there a special reason why these songs were selected?
Fuki: I think it's because these are the standard numbers at our concerts, isn't it?
Shiren: Yeah, "Kyomou no koibito" and "Change of Generation" are old stuff, which we've been playing at the concerts and we'll keeping playing them in the future. That's why we wanted to record new versions. When these original versions were recorded, I used electric drums and it was before Jill joined the band, so I wanted to re-record the highest quality sounds with our band members.
Shiren: "Wings" was selected because we cut the single CD with only that one song. The song is the same we released before (in 2015), but its vocal part has been re-recorded. So, it has a minor change.
Fuki: The "Wings" CD single that we sold last April was just a re-issue, but this time we re-recorded its vocal part. "Wings" was only available as a single, and it has never been included in any album.
Shiren: So, we thought if it was included in an album, we could expect more people would be more likely listen to it, since metal lovers don't buy single CDs.
Fuki: That's true. Heavy metal lovers prefer albums! (laughs)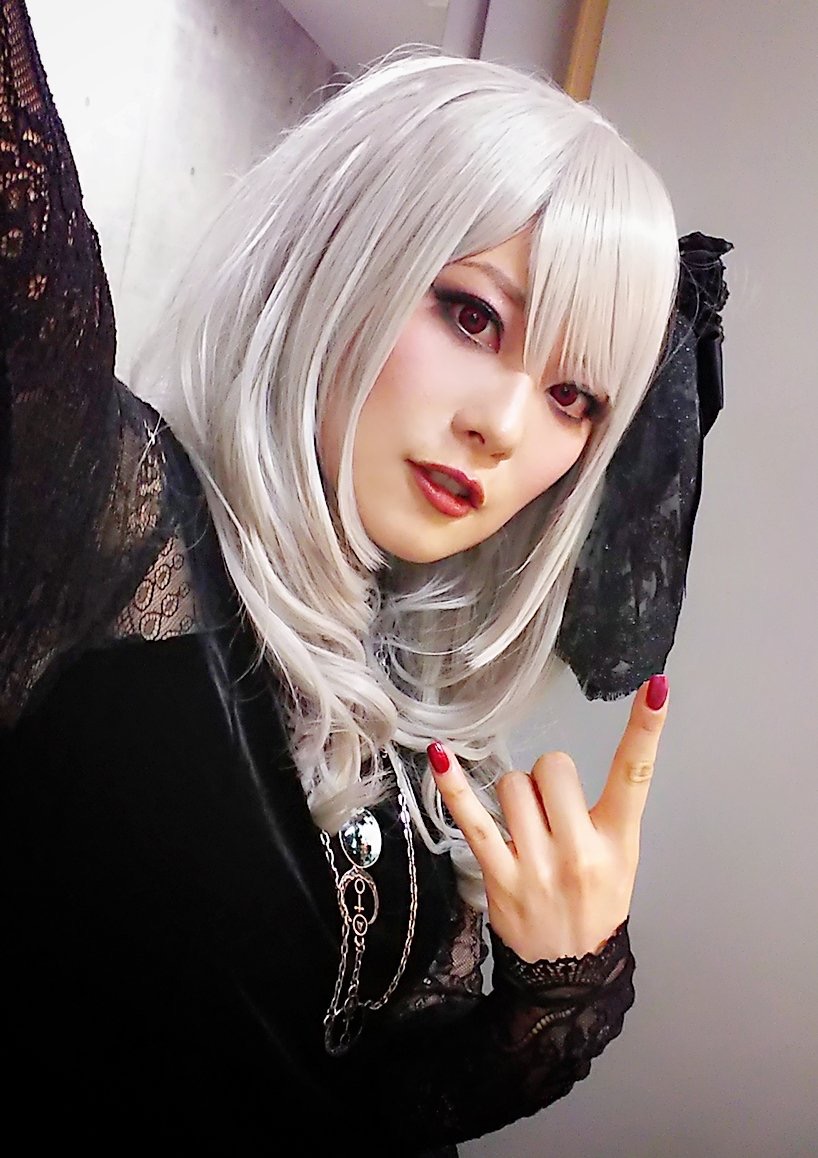 Two of the songs were recorded by Aramari late last year as part of her FREEDOM CREATORS project. Will the versions on this album feature Fuki on vocals?
Shiren: Yes, "Toraware no bokura" and "Negai no hakobune" are from FREEDOM CREATOR's Toraware no Bokura. Fuki sang them for our album as Unlucky Morpheus version.
Fuki: The instrumental tracks are the same as before, just the addition of my vocals is the only change.
Earlier this year you mentioned that you were thinking of recording some songs in the style of anisong. Will there be any like that on this album?
Shiren: No. there won't be anything like that. I can give you a breakdown of the new songs we haven't covered yet.
"CAMBIO DI GENERAZIONE" – This is the album intro, and it's an instrumental song.
"KIZASI" – I got inspirations of "KIZASI" from my injured left hand. I thought that it would be useful for a concert if I composed a song with using only one finger of the left hand to play the guitar, so I did that for the guitar score. Nevertheless, this song is neither easy nor simple, rather, it has a powerful heavy metal sound. It will be fun if you keep thinking about that one finger when you're listening to this song.
"Shizumi kura uta" – This is a slow song. It's not heavy metal, in fact it's a surprisingly different kind of song from us so far.
(Fuki: …The meaning of the title is "requiem".)
"Spartan Army" – This is an instrumental song which is played by Jinya, Ogawa, Jill, and FUMIYA at the concerts as well. I composed it with the intention to capitalize on their unique styles.
In the band's earlier days, Unlucky Morpheus primarily made Touhou arranged compositions, but over the past few years the band has made the transition to primarily composing original songs. What was your motivation for moving in that direction?
Shiren: I just wanted to compose original songs, and I've been thinking that we need to make more original songs to make new fans and give them chances to listen to our works.
Fuki: Many heavy metal lovers don't want to hear Touhou arranged songs, and we can't sell Touhou arranged works at regular CD stores. Therefore, making original songs has the value of being able to make it into those stores where music fans like to shop.
Shiren: It doesn't mean that we've quit making Touhou arranged compositions. We still have the desire to continue those in the future.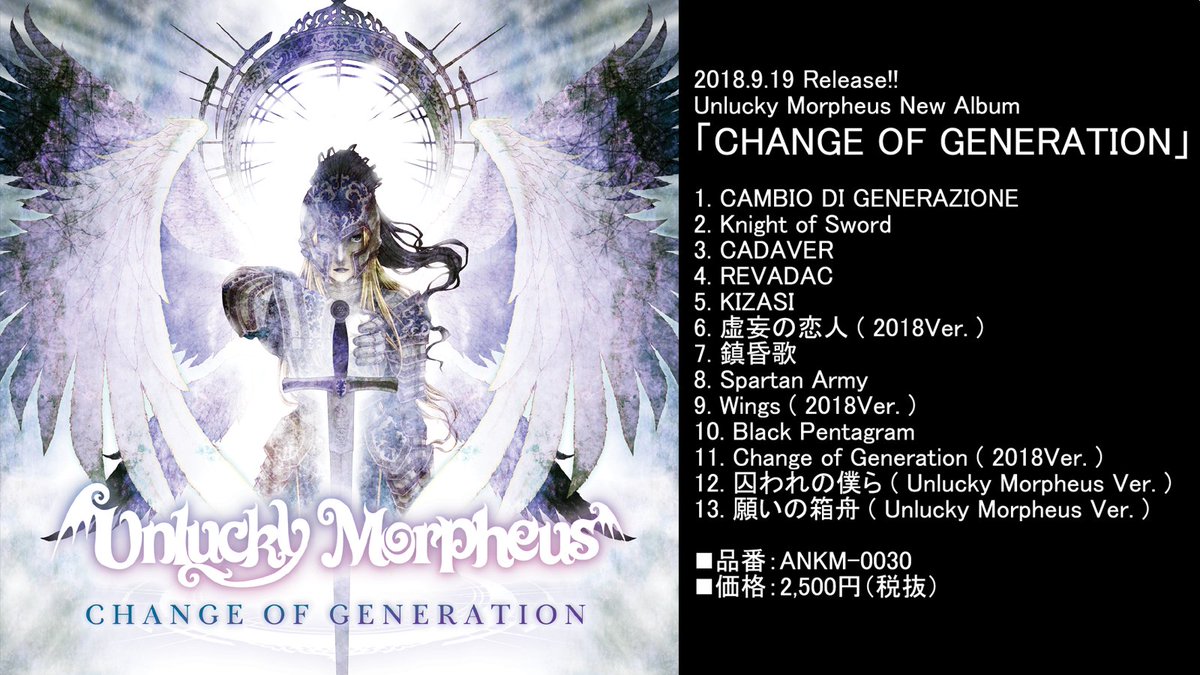 It was a surprise when it was revealed that Unlucky Morpheus would be participating in DOLL$FESTA. How did this come about?
Fuki: The idea came from Gacharic Spin's management. They had the idea to hold a music festival organized by DOLL$BOXX. When I heard about it, I thought it sounded like a fun idea, and then, I'm not sure when, I suggested that I would like to attend with all of my bands.
(To Shiren) Will this be the first time you've played guitar at an Unlucky Morpheus show since the countdown live? You must be looking forward to it.
Shiren: Yes. That's right. I haven't played guitar on stage for a while, and I'm getting a little bored!
(To Fuki) And you'll be performing in 3 different sets – Unlucky Morpheus, Fuki Commune, and DOLL$BOXX! That is quite a challenge. How have you prepared for it?
Fuki: Yes, it's been quite a challenge and, to be honest, I'm quite busy at the moment. I've never been in a situation like this. Now I'm enjoying it a lot, but on the other hand I'm a little worried about whether it will turn out OK. I'll do my best to get ready for the event so I can enjoy the festival from the bottom of my heart.
Back in February 2017 you did two sets, now you've added one more!
Fuki: You're right. When I attended the rock event "WW Face" in February 2017, I performed in two bands, Fuki Commune and DOLL$BOXX.
There has been discussion among overseas fans that you could probably shatter glass if you tried — is that something you have ever thought about?
Fuki: (laughing) In fact, I was asked to appear on television some time ago, and the offer was just like that: "Do you want to try shattering glass with your voice?" Unfortunately, the TV program itself was cancelled after all so I lost the opportunity to try. But I think I could probably do it!
You should try doing it as a bit on your weekly radio show.
Fuki: Yes, I'll think about it!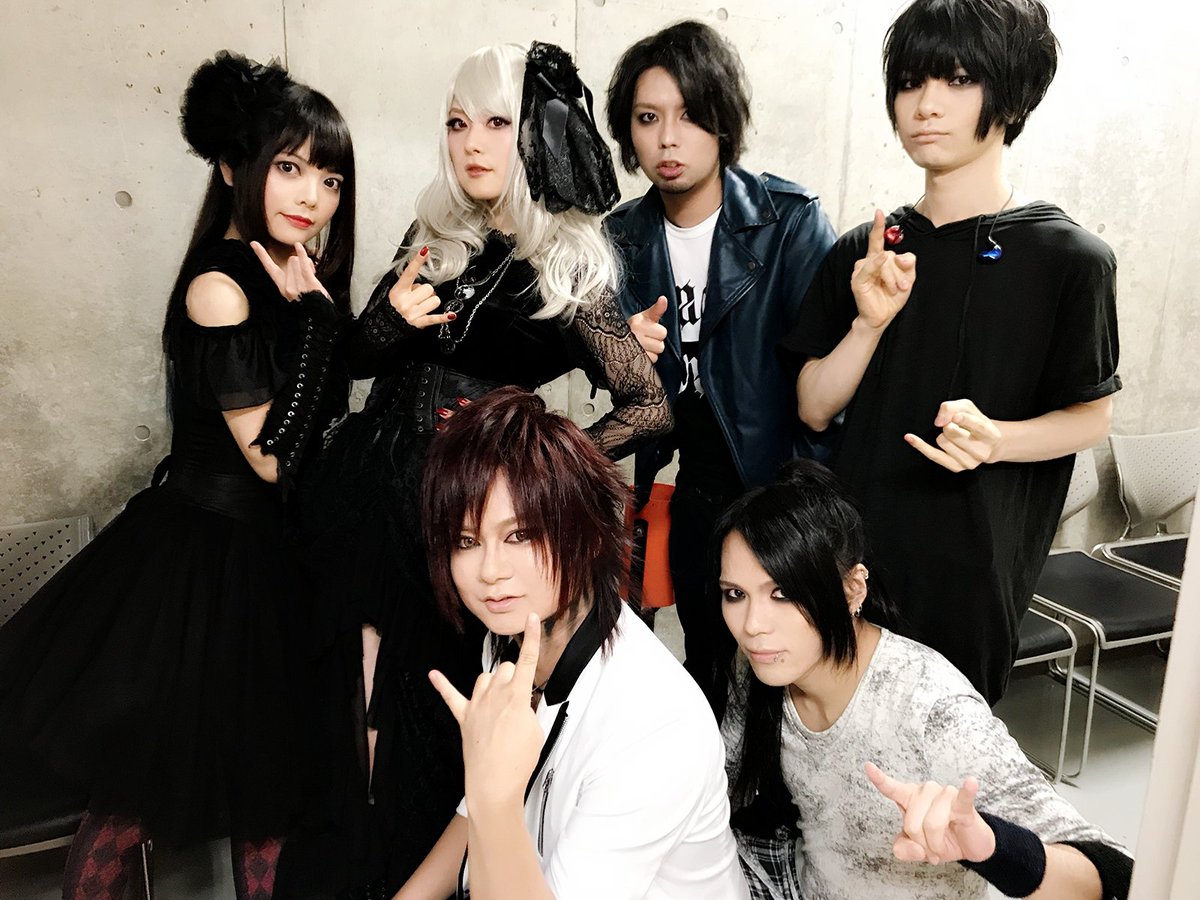 The band will be playing several dates across Japan this fall. Do you have anything special planned for these shows for the band's 10th anniversary?
Fuki: Well, this is our first solo tour across Japan, so we definitely want to make it something to remember.
One of the shows on the tour is for women only. Having experienced firsthand the energy, intensity, and enthusiasm of your fans at one of your lives, I can see why it might be daunting for some fans to get close to the stage. Is that why you scheduled a show like this?
Shiren: Well, we've considered such things.
Fuki: Yes.
Shiren: Sure enough, we play a heavy and intense performance, so we're afraid that some of the audience, especially women, may hesitate to come to our concerts. We would like to arrange opportunities like this regularly.
Are there still plans for the band to release a cover album at the end of the year at comiket?
Fuki: There were…
Shiren: There was a plan to release a heavy metal cover album at the end of this year. But at the time that I made this plan we were still undecided concerning the solo tour. Once we scheduled the tour, the plan was postponed, as it would be impossible to make an album and tour at the same time.
Fuki: So, the plan now is to make it next year.
Shiren: We will make it next year.
Fuki recently sang "Rusty Nail" at Fuki Fes Vol.4, and Ankimo has sited X Japan as a big influence, so is it a possibility that an X Japan song will be covered on the album?
Shiren: No, but in fact, I'd like to do that. (laughs)
Fuki: Well, there is a possibility that their songs will be covered at our concerts.
Will any of the cover songs be from western metal?
Fuki: Yes, that's right.
Shiren: It will have western metal only. Among the fans of Unlucky Morpheus, some are familiar with heavy metal, while others know only our music. The number one reason for doing the covers is that we just want to play them, but the second is that we would like to introduce these songs to fans who don't know what heavy metal is, how our history of heavy metal was created. There's a lot to cover!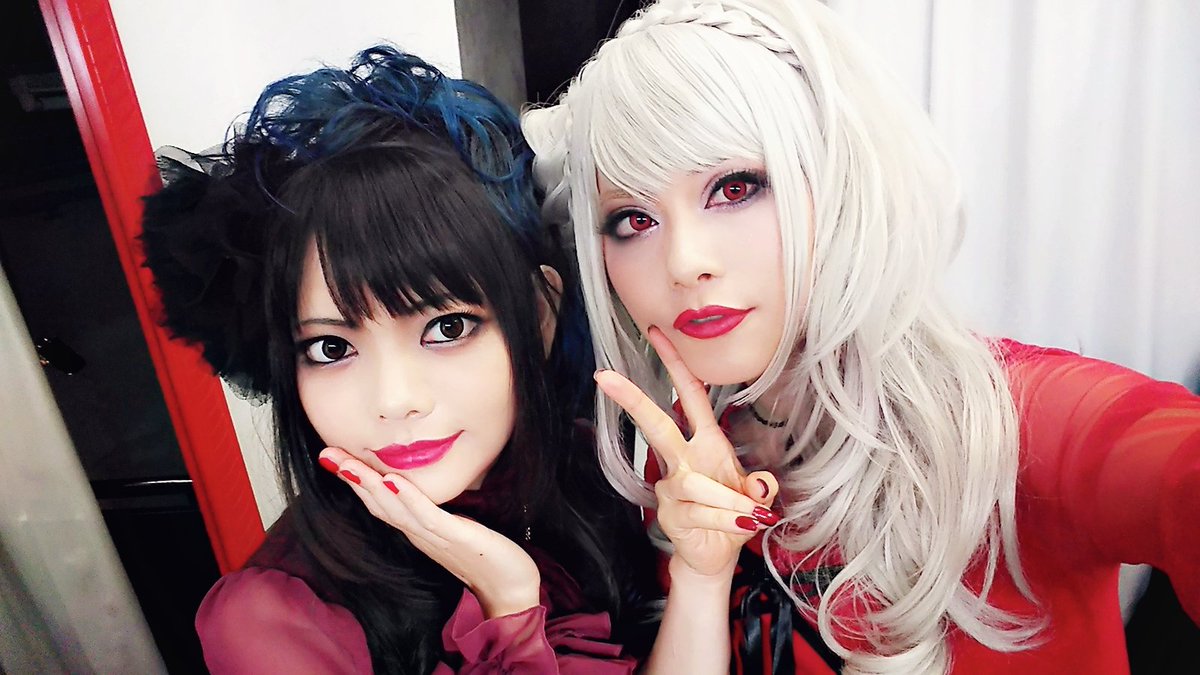 Unlucky Morpheus on Spotify
Unlucky Morpheus on Apple Music
Unlucky Morpheus on Google Play Music
Unlucky Morpheus Website: http://sound.jp/ankimo/
Unlucky Morpheus Twitter: https://twitter.com/ankimo_official
© Copyright 2018 JRock247
Todd Nelson is an editor and contributor to UniJolt. The article was originally published by JRock247.