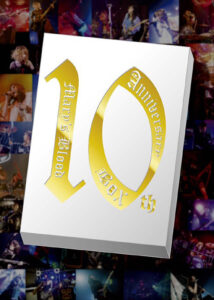 Apologies up-front: I ramble a bit on this one.
January 25, 2016, was a turning point for me. I had discovered both BAND-MAID and BABYMETAL the previous summer, and they had piqued my interest in checking out the Japanese music scene. Over the following months, however, I had not found any other artists that resonated with me the same way. I had just about decided they were going to be the only Japanese bands in my library when YouTube's algorithm recommended "Burning Blaze" by Mary's Blood to me.
On the strength of this song alone, I decided to do something I rarely do: I bought their latest release without having heard a single note. Even more unusual, in my impatience to hear more now, I downloaded Bloody Palace from iTunes. (I'm a physical media guy, so this was a big deal.) After the brief introduction of "The Gate of Palace," I heard a wail at the beginning of "Bite the Bullet" that absolutely floored me.
That was it. I was hooked. Over the next few days, I also bought Azure, Countdown to Evolution, and Scarlet (both digitally and on CD). That was the true beginning of my trip down the rabbit hole of Japanese music. I stopped dipping my toes in the water, jumped into the deep end, and never looked back.
Since then, I have tracked down all but one of their releases (the very rare One Year Anniversary DVD), and am eagerly awaiting Re>Animator.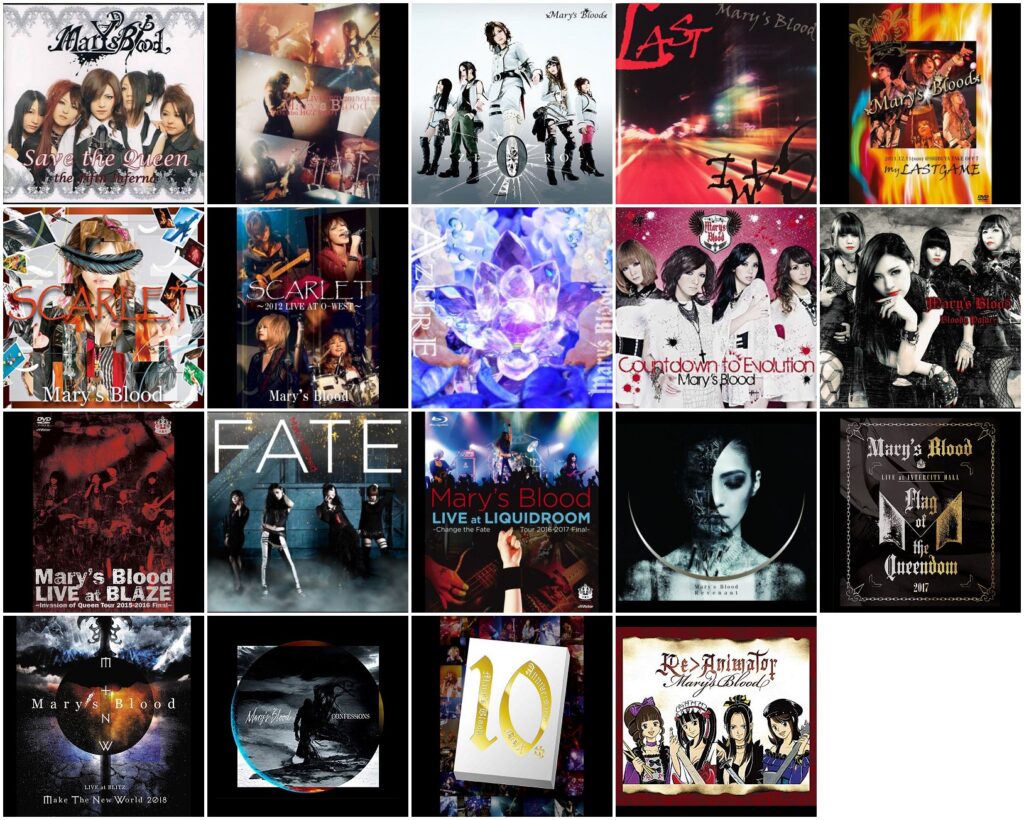 In case it isn't clear yet, I absolutely love this band. They weren't just a stepping stone to a larger music scene, to be quickly forgotten or remembered with mere nostalgia. They have become one of my all-time favorite bands.
Flash forward to 2019, and Mary's Blood celebrated their 10th anniversary and released their 5th full-length album, CONFESSiONS. Which (finally) brings us to the point of this review: the 10th Anniversary Box.
This box set features two complete concerts:
The final show of the MY XXXXX CONFESSiONS TOUR, performed on August 12, 2019, at LIQUIDROOM.
The 10th Anniversary Live ~Decade Of Queens~ show, performed September 29, 2019, at Stream Hall.
The MY XXXXX CONFESSiONS TOUR show contains 18 songs, including all 11 from CONFESSiONS. This makes me very happy, because CONFESSiONS was my AOTY (Album of the Year) for 2019. In fact, Revenant was my 2018 AOTY, making Mary's Blood the first artist to release back-to-back AOTYs.
With Revenant, EYE, Saki, RIO & Mari made the most eclectic album of their career and absolutely blew me away. The songs were heavy, melodic, unexpected, and absolutely fierce. "On the Rocks," where EYE channels Janis Joplin is a personal favorite. It has so much swagger. The versatility of every single member of the band was on full display. It was a masterclass in songwriting and performance. Then, CONFESSiONS did what I thought impossible, and upped the ante. It was the spiritual and musical successor to Revenant in every way: more eclectic, more confident, more fierce. With these two albums, Mary's Blood demonstrated that they're not just a very good metal band, but that they are excellent songwriters who can seamlessly incorporate elements of pop, rock, and metal into a cohesive whole that is uniquely their sound.
I say all this because this particular show is very much a celebration of these two albums. Only 5 songs are from earlier albums. (On a side note, this is one of the things I love about the Japanese scene: unlike a lot of Western bands, albums aren't just an excuse to tour and then ignore the new material.)
A big part of their sound is the newly prolific of RIO, who really got to show off her songwriting skills on CONFESSiONS with three very different tracks:
"エイム" is an aggressive rocker that also features the first set of lyrics not written by EYE since since Saki wrote the lyrics for "Frozen" on Azure in 2013. I absolutely love the bass line. It stood out to me the first time I heard it and I love it every time I hear it.
"Hello" sounds like it could have been in a John Hughes movie in the 80s. (To me, that's not a criticism.) I didn't realize the solo was a bass solo until I saw it live on this release. My jaw might have dropped a bit.
"HIGH-5" sounds like 60s beach music crossed with punk rock.
The show also features "R.I.P." from Revenant, a snarly punk rocker that shows off yet another side of RIO's songwriting.
The 10th Anniversary Live ~Decade Of Queens~ show features 21 songs, spread out pretty evenly from the releases since 2012 (i.e., with this current lineup): Scarlet (2), Azure (2), Countdown to Evolution (4), Bloody Palace (3), FATE (4), Revenant (3), and CONFESSiONS (3).
There are no weak points in this band. Every band member is at the top of her game.
I've already mentioned RIO, but her partner in rhythm, Mari, is just an absolute beast on the drums, keeping time and burning enough calories in each show to make me tired just watching. All while bobbing her head and smiling as if she's taking a mild stroll in the park. She is amazing.
Saki gets a lot well-deserved attention for her guitar skills, but one thing I don't think she gets enough credit for is knowing how to play for the song. Despite her off-the-charts talent, she doesn't showboat. She knows how to put on a show, yes, but she doesn't hog the spotlight. Her solos are tasteful and perfect.
Unofficial fifth member Yashiro also deserves recognition. She has performed live with Mary's Blood at almost every show over the past five years or so, pulling triple duty: the rhythm work that provides the necessary foundation to allow Saki's lead work to shine; the occasional dual lead work with Saki that allows songs to be properly replicated live; and backing vocals, doing an amazing EYE impersonation on some of the lines. She is an important part of their live show and, while she is seemingly content to stay in the background, I love it when Saki calls her up front to give her a chance to shine. That's just pure class on the part of the band.
Finally, as much as I love the entire band (and I do!), there is no denying that EYE is the absolute show-stealer in every way. Not in the sense of being a diva — that is something she absolutely is not. But none of this works without her being able to pull off these songs live. And she does. She is The Boss. It's just amazing that for two hours, from the first note to the last, she gives 100% — and sounds just as strong when she stops as when she started.
These two shots are the perfect representation of EYE on stage: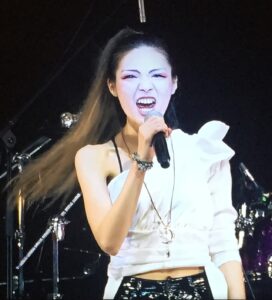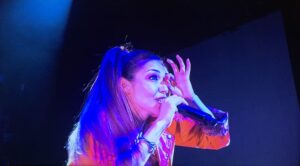 She is a force to be reckoned with. She is fierce but also having an absolute blast. She is in complete control of the crowd, effortlessly commanding the stage. She can croon, she can belt, and she can put so much grit into her voice that it sounds like she's gargling gravel — and she sounds amazing doing it all. Lungs of leather and vocal cords of steel, her voice is a velvet-covered hammer, ready to pound you into submission while you smile and beg for more.
Both shows are flawless. The mix is fantastic. I love being able to hear all the performers so well. While watching, however, I found myself wishing (as I often do) that Blu-rays would offer a multi-angle option, so that I could choose which performer I wanted to watch. The editing is actually excellent (no migraine-inducing quick cuts), but there is so much going on with each performer, I always feel like I'm missing something.
All told, this box set is a perfect summation of what Mary's Blood is: one of the best bands on the planet. They can party and make you want to dance; they can rock and get your head banging; they can bludgeon you with aggression and make you beg for mercy; and they can move you to tears with emotion. They are the real deal.
So, if you are a Mary's Blood fan, you need this box set. Yes, it's a bit expensive, but it is very much worth it. Thankfully, the band produced a second run after the first one sold out so quickly. So, you can get it directly from them (link to their web store below) without getting ripped off by unscrupulous resellers.
One day, I will see them live in person. Until then, these two concerts will suit me nicely.
Homepage: https://marysblood.futureartist.net/
Twitter: https://twitter.com/marysblood_Info
Facebook: https://www.facebook.com/MarysBloodOfficial
Official web store: https://marysblood.thebase.in/