Gacharic Spin
Anime Matsuri (Houston, Texas) – June 14, 2019
Live Report by Todd Nelson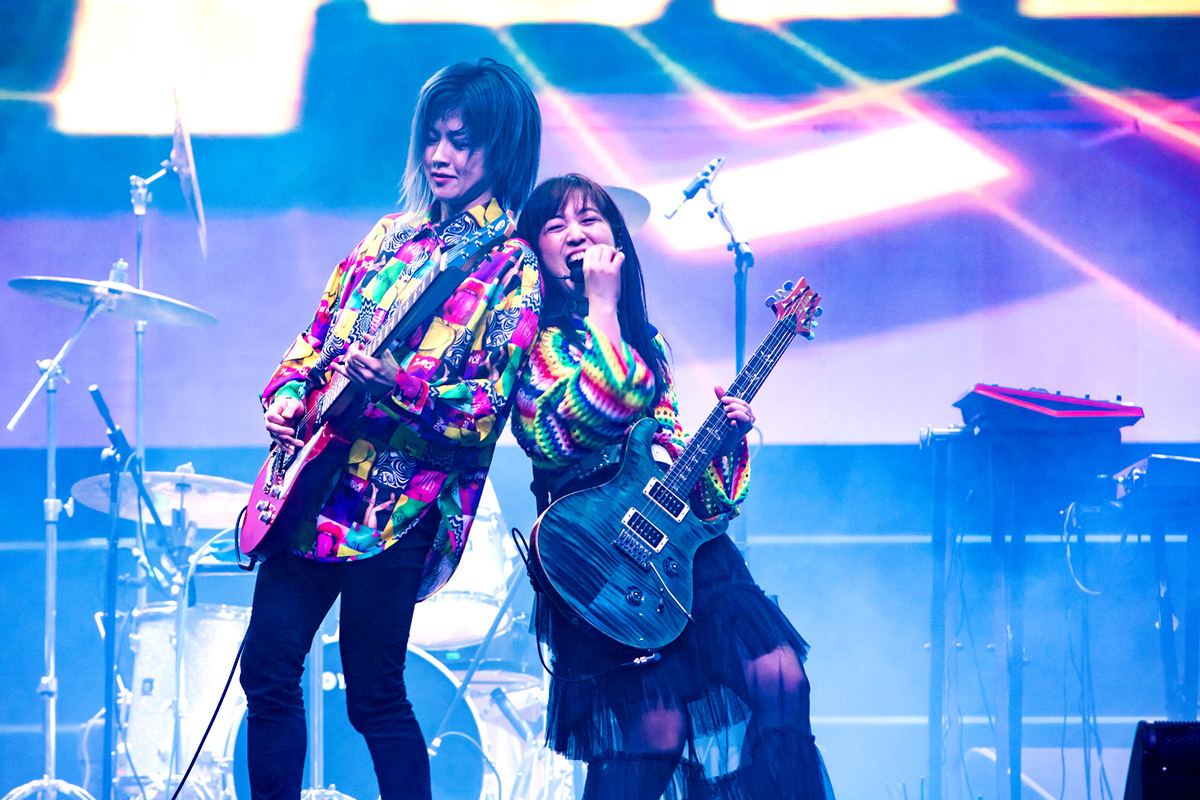 (photo: Judy Escalante/Anime Matsuri)
Gacharic Spin rocked Houston as the headliners for Anime Matsuri 2019 in their only international appearance for their 10th anniversary tour. It was the band's third appearance as a musical guest at this event, however the lineup was quite different from when they last played the event in 2017.
After Performer #1, Mai, left the band at the end of last year, the band retooled itself, moving Hana from drums to rhythm guitar and bringing in two new members: yuri on drums and Angelina 1/3 as mic performer. Fans from across the US and other countries made the trip to the George R. Brown Convention Center just for Gacharic Spin, eager to see the new lineup.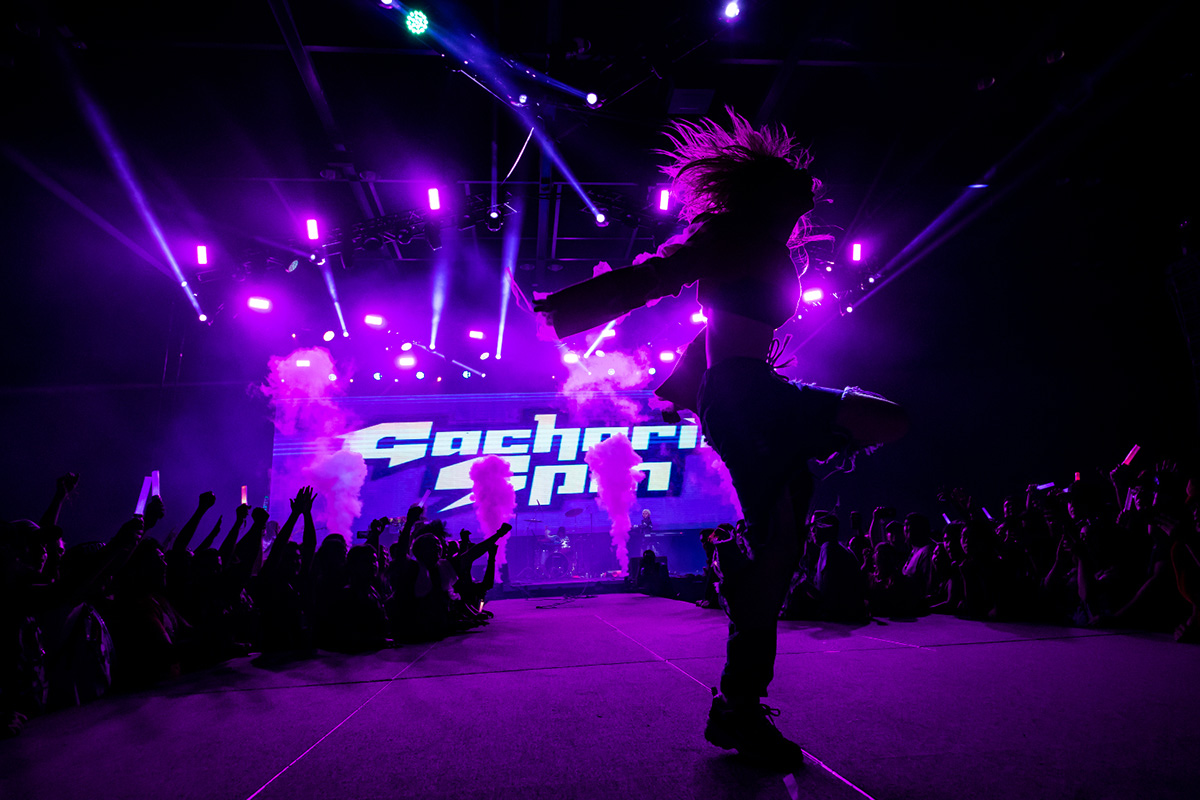 (photo: Judy Escalante/Anime Matsuri)
Any reservations people may have had about the changes (myself included) quickly vanished when the band kicked things off with "LosT Angel" and fan favorite "Never Say Never", playing with their usual level of high energy and technical musicianship. Newcomer yuri's drumming was strong, powerful, and crisp. Her drum kit might have had the highest cymbals I have ever seen, which added some great visual flair when her arms would reach up fully extended to strike them.
People wondering what a "mic performer" was got their answer after the first two songs. Angelina 1/3 would sing, rap, and growl, and when she wasn't on the mic, she was a blur of perpetual motion, firing up the crowd with the choreography formerly presented by performers Mai and Arisa, merged with her own unique style.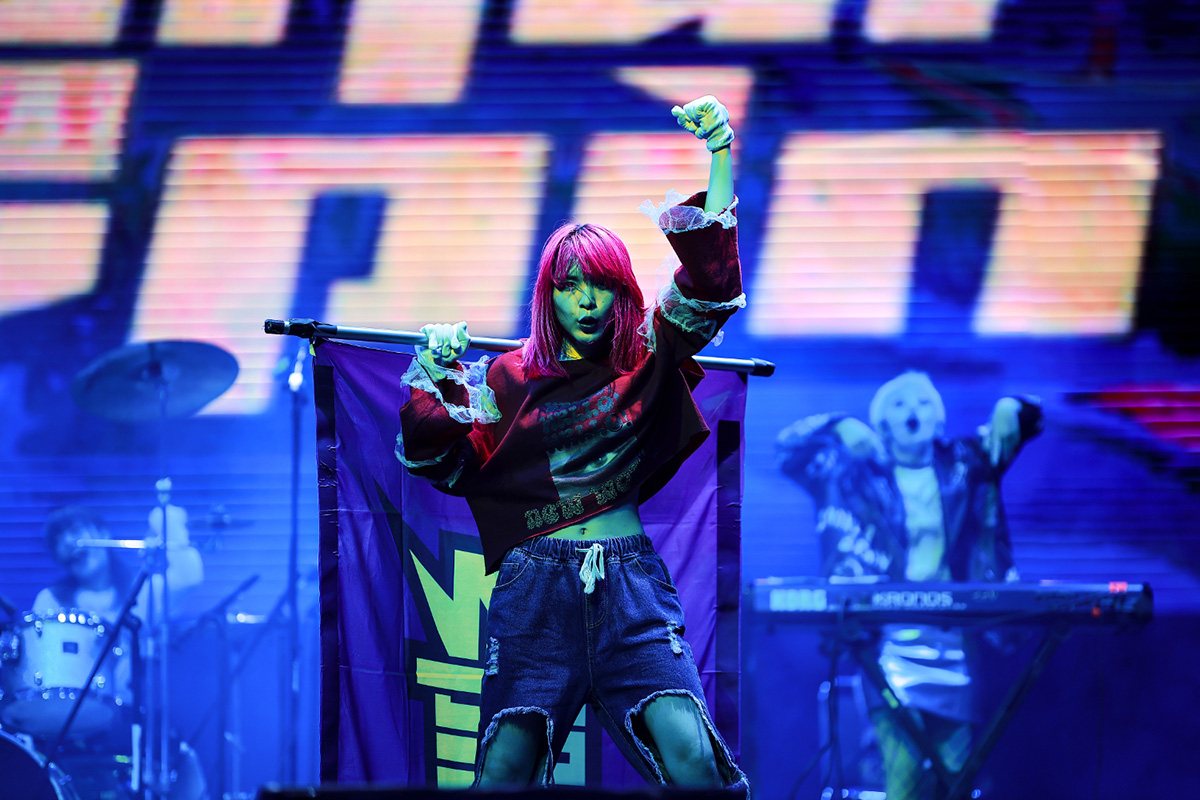 (photo: Luxe Studio Productions)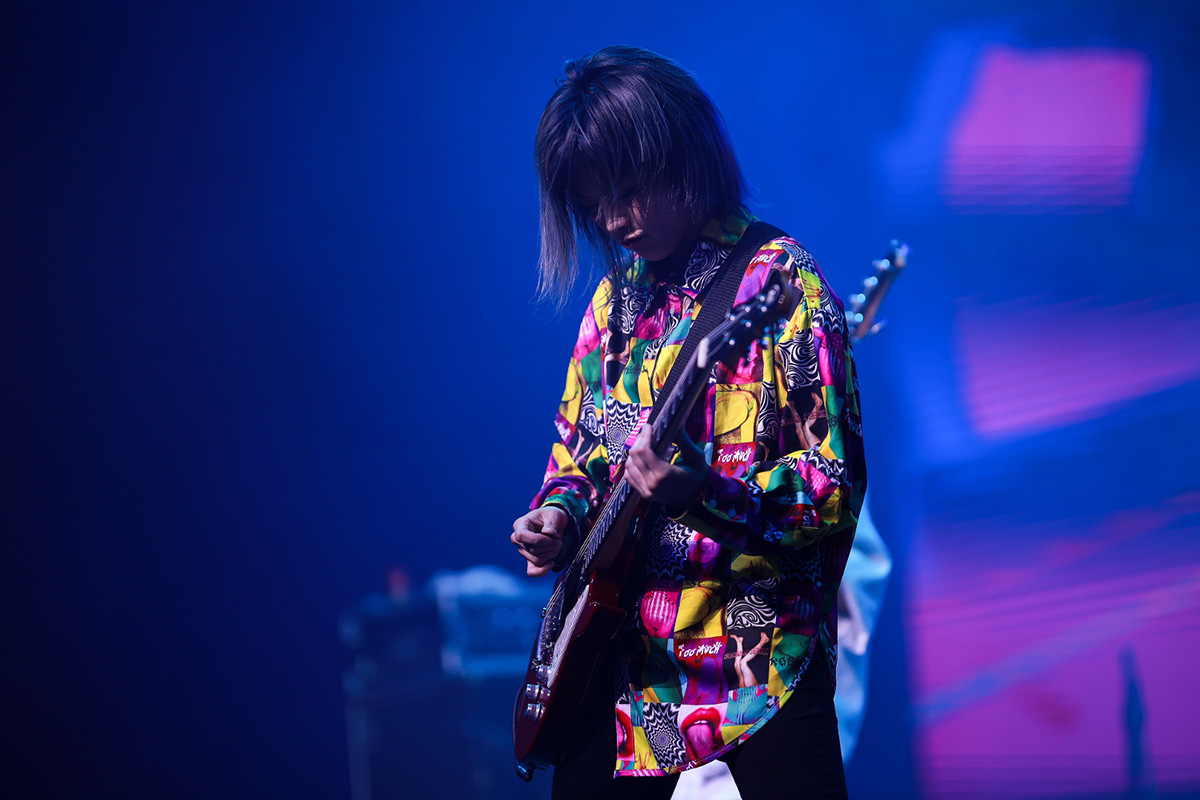 (photo: Luxe Studio Productions)
Of course, the biggest change was seeing Hana away from the drum kit, and her role varied from song to song, including a few surprises. For some songs she sang vocals and played rhythm guitar, and for others she was strictly focused on vocals. It worked really well seeing her out front interacting with KOGA, TOMO-ZO, and the audience.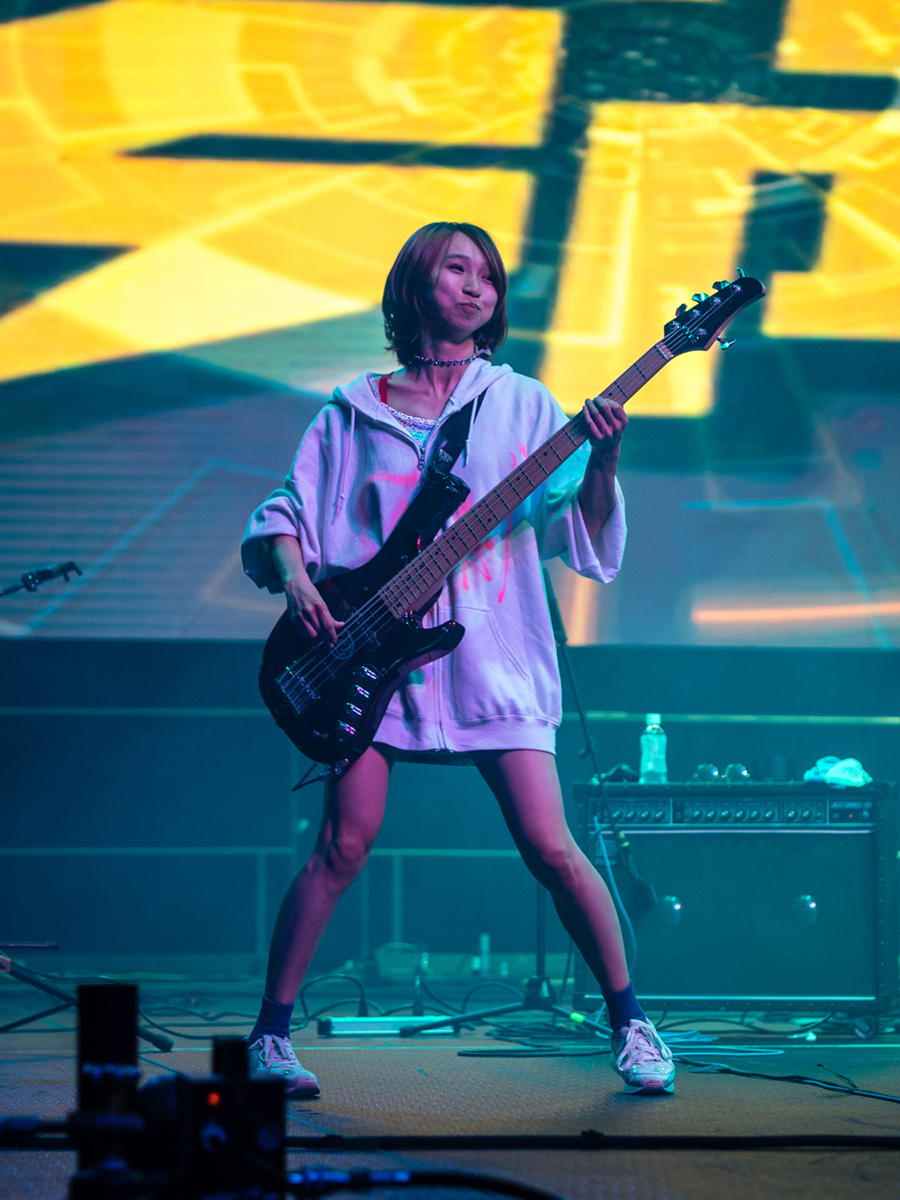 (photo: Cap Hayes)
Band leader F CHopper KOGA has said that Gacharic Spin is always evolving, and that was definitely apparent as the band demonstrated the power of its 5th generation for the first time overseas. Many songs were changed in various ways: "Stay Gold" had a dual guitar solo between TOMO-ZO and Hana, and "your place" featured a nice piece of choreography with KOGA, TOMO-ZO, and Hana. A guitar solo by TOMO-ZO was inserted into "Never Say Never", and Hana added some growling vocals to "Sekira Liar" — reminiscent of her work in DOLL$BOXX. The biggest surprise came when the band performed "Hunting Summer" and "More Power" with Hana playing an aerophone.
A Gacharic Spin show isn't complete without some stage theatrics and this show was no different. "Hunting Summer" stood out in particular as Oreo Reona moved to center stage on lead vocals, while Angelina 1/3, equipped with a beach ball, left the stage and made her way through the audience.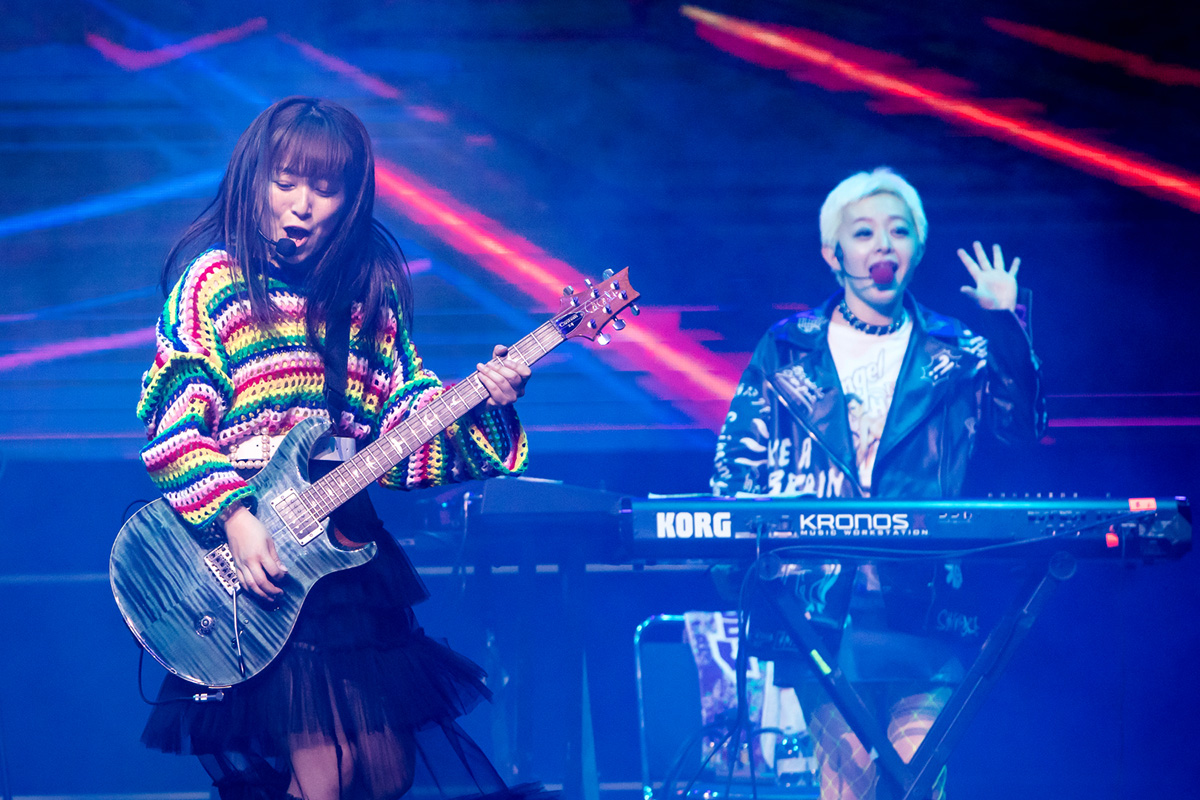 (photo: Judy Escalante/Anime Matsuri)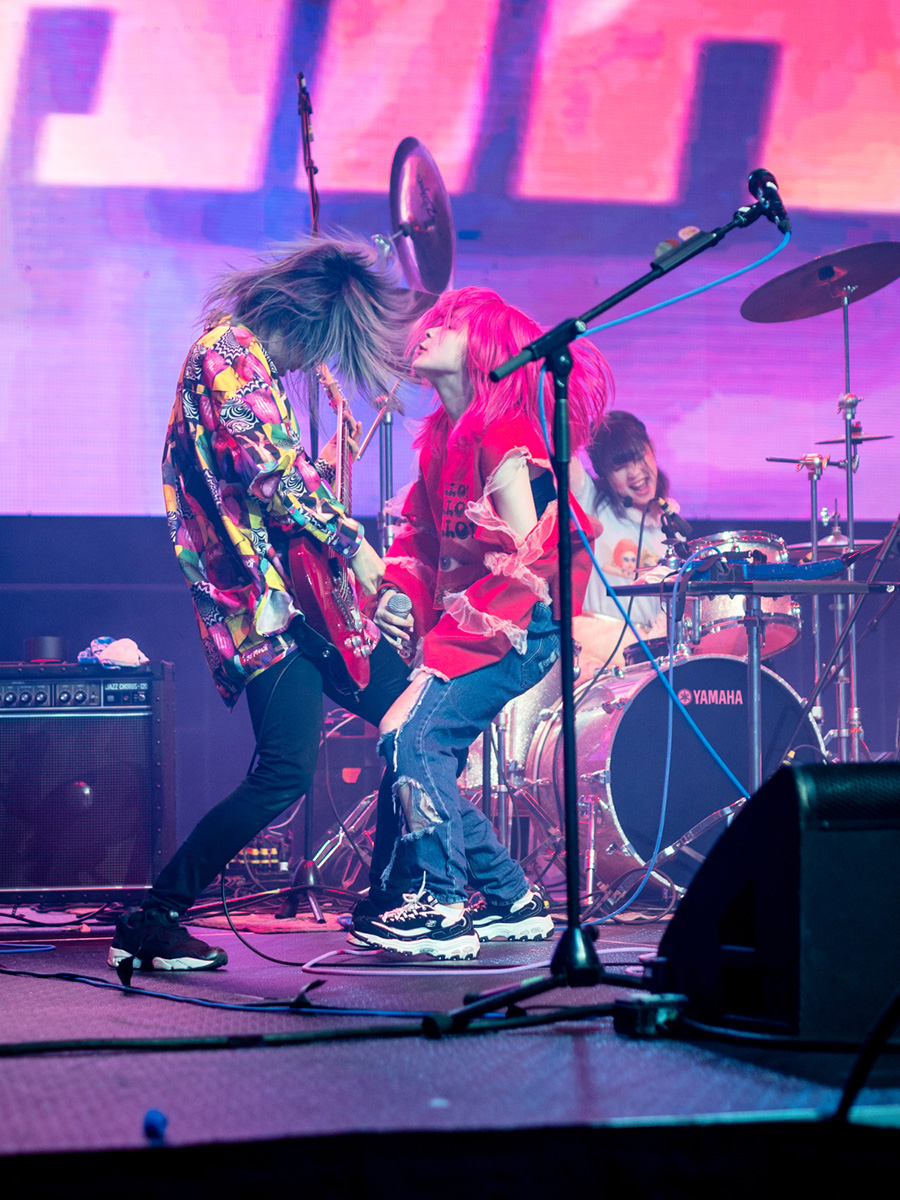 (photo: Cap Hayes)
Leading up to the event, the band stated they wanted to make this performance special due to this year being their 10th anniversary. Their intent was evidenced by the stage setup and effects that were on display, things you don't normally see in a convention setting: a runway the band members used to have close interaction with the crowd, smoke effects, pyrotechnics, even a confetti blast when the band closed the show with an encore of "Don't Let Me Down".
Gacharic Spin put on a stellar performance. It was impressive how well the band has gelled in just a few months with this new lineup. Oreo, who carried English MC duties for the evening, told the audience that Gacharic Spin wants to tour America. Based on the reaction the band received at Anime Matsuri, America wants that too.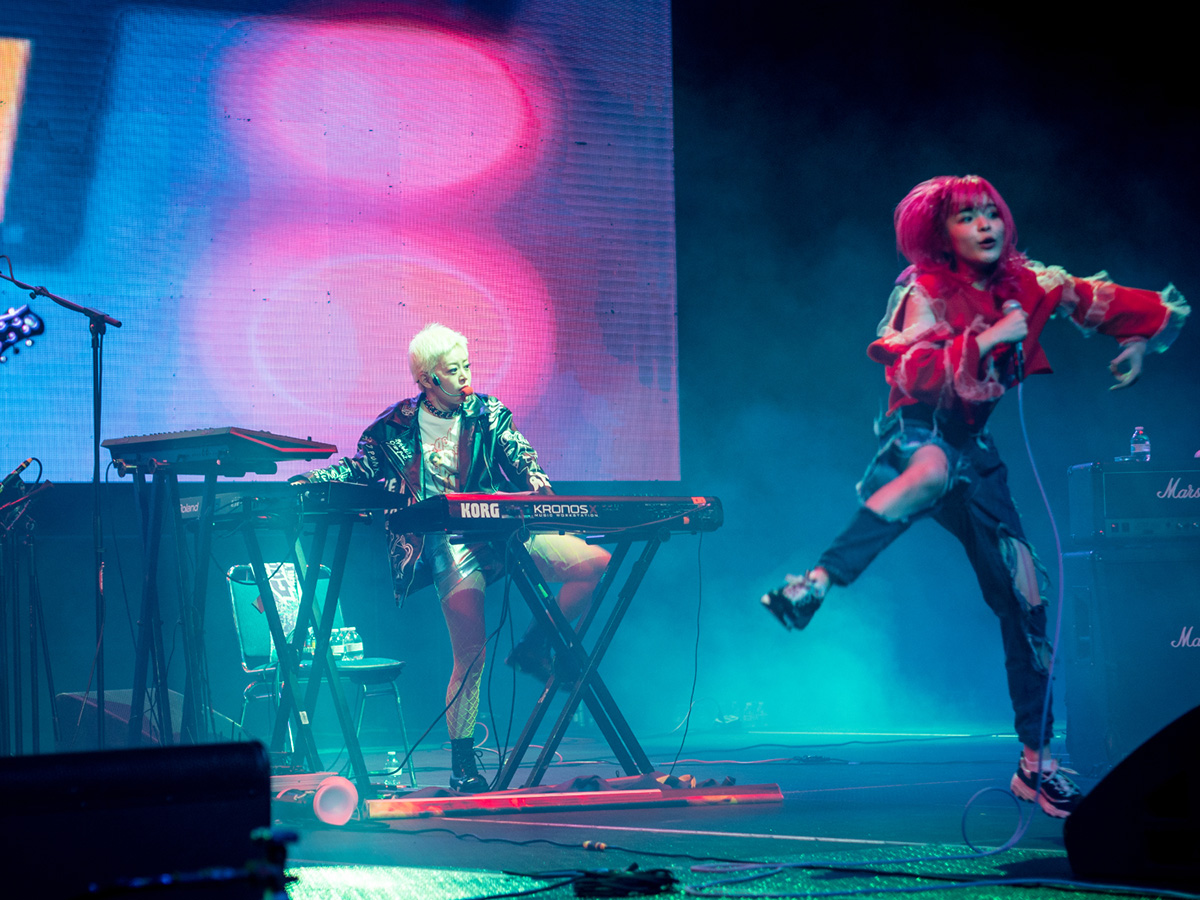 (photo: Cap Hayes)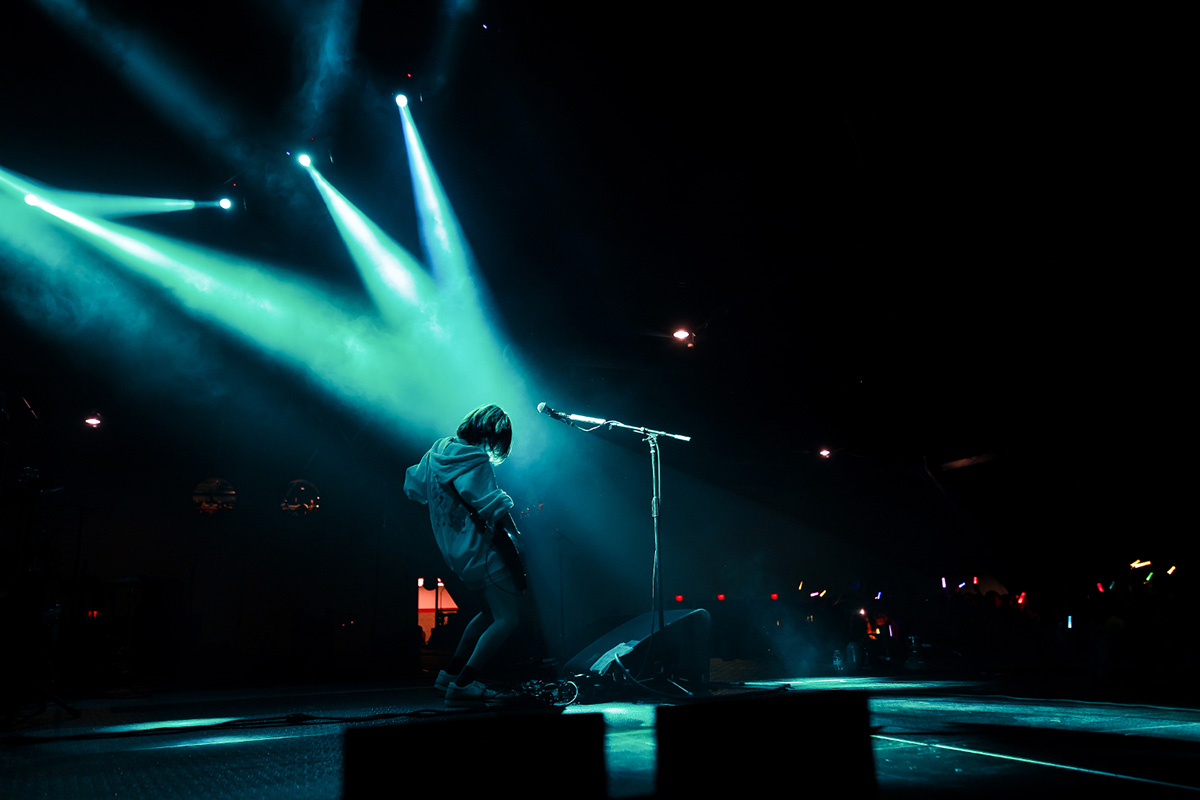 (photo: Luxe Studio Productions)
Gacharic Spin
Anime Matsuri (George R. Brown Convention Center) – June 14, 2019
Setlist
1. LosT AngeL
2. Never say Never
3. Stay gold…
4. your place
5. Yumekuizame
6. Sekira Liar
7. Hunting Summer
8. More Power
9. Redline
10. Lock On!!
Encore:
11. Don't Let Me Down
Gacharic Spin website: http://www.gacharicspin.com/
Gacharic Spin Facebook: https://www.facebook.com/gacharicspin
Gacharic Spin Twitter: https://twitter.com/gachapin_info
© Copyright 2019 JRock247
Todd Nelson is an editor and contributor to UniJolt. The article was originally published by JRock247.